12214 Holiday Gift Guide For Her
I composed this gift guide with all of the ladies in mind - for mum, the BFF, the co-worker, and every girl in between. The list contains some of my top fave items of the year and they're things that I'm very excited about gifting.
THE $20 GIFT - THE BRACELET
These adorable bracelets from Birds Of A Feather have gotten me a ton of compliments which is why it's the perfect small budget gift. The local Toronto jewellery line consists of cheap & cheerful fashionable pieces that are suitable for every age and style. With free shipping over $50 (within Canada), it's good to stock up on a few of these!
Gift To: Coworkers, sisters, cousins, nieces, BFF and yourself.
 
THE TASTY GIFT FOR EVERYONE
Just looking at pics of macarons on Instagram has me foaming at the mouth! Butter Avenue is a local Toronto pâtisserie & café that makes the most divine macarons I've ever had. Macarons make a delightful, unexpected and tasty gift for pretty much anyone on your list. With new holiday flavours like Candy Cane, Gingerbread and Mont Blanc, you'll be tempted to eat them before handing them over. Oh, and their little yellow boxes are elegant, adorable and fun to open!
Gift To: Host, boss, coworkers, parents, siblings, relatives, BFF... pretty much everyone.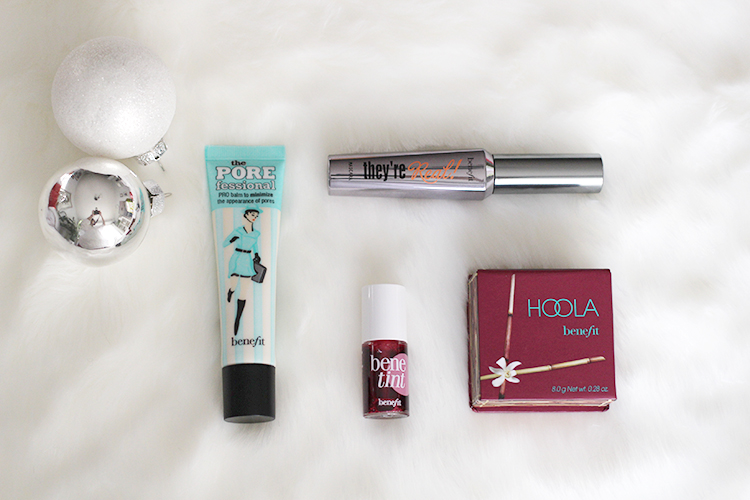 THE UNDER $50 GIFT - THE BEAUTY ESSENTIALS
Don't let the adorable package fool you, the cosmetics in this metal keepsake tin are 100% sophisticated. Benefit Cosmetics have released their special Holiday Gift Sets that range from $25-$120. The Sugarglam Fairies set (above) contains some of my favourite Benefit products that I believe no girl should do without -
They're Real! Mascara (full sized), The POREfessional (full sized) , Hoola (full sized) and Benetint (medium sized). The products are absolute staples for every girl's makeup bag and universal with so many skin tones.
Gift To: The makeup junkie in your life including your BFF, sister, mum and yourself!
 
THE GIFT FOR THE PERSON WHO HAS EVERYTHING
Every year with my husband and I it's the same question, "What do we get your grandmother?". If you're unsure what to get her, think about a luxurious and functional gift that she needs anyway. This year it's the L'Occitane Hand Cream Set that contains some of the most beautifully scented and formulated hand creams out there. This set has the versatility of being gifted as is or broken up between a few people. Trust me, this is not the kind of gift that will leave her thinking "WTF".
Gift To: Grandmother, mother, aunt, mother-in-law, hostess, coworker and your kids teacher.

THE UNDER $100 GIFT - THE CANDLE
There's something so special about receiving a luxurious candle as a gift and the iconic Jo Malone packaging is almost as good as what's inside. I went for the Wild Bluebell, a light clean floral scent, for my BFF. She's extremely picky and has everything she needs but a luxury candle (from either Jo Malone or Diptyque) always leaves her feeling appreciated. Granted a candle might not be the ideal gift for everyone so make sure it's the kinda thing she would appreciate. I would have preferred it to the bluetooth clock radio my husband got me last year! *LOL*
Gift To: Grandmother, mother, aunt, mother-in-law and BFF.
Consider the travel size candle as a thoughtful hostess gift.
 
THE $250 GIFT - CASHMERE
This luxe gift should be given to that special lady in your life. It's something every woman will appreciate and not always something she would get herself. Zara has come out with a beautiful cashmere cold weather set just in time for the holidays. The scarf and beanie gift set comes in a colour choice of pale pink and classic tan, packaged in a pretty gift box ready to give. Consider cashmere when wanting to impress.
Gift To: Girlfriend, wife, mother, mother-in-law, grandmother.
In the last few years my friends, family, husband and I have all taken a lighter approach to gift giving. It's more about having fun with smaller budgets and being thoughtful and creative with what we give each other and that's what inspired me to put the above gift guide together. I hope it helps inspire your gift giving this Christmas and makes shopping easier.
** Birds Of A Feather, Butter Avenue & Benefit Cosmetics are PR samples but I offer these suggestions here because I truly love them.
xo, Nathalie