BeautyBlender: Review & How To Clean
I stopped by Sephora a couple of weeks ago to return my Teint Infusion Foundation. Instead of leaving the store with my refund money in hand, I left with a shiny new BeautyBlender in the Red Carpet edition. At $28 (Canadian price and $20 USD) for a little sponge it's pretty expensive for what it is but I was curious to see if it would add up to all of the hype.
I'm so in love with this little sponge right but there are some downsides, which I'll talk about below. Overall it blends my foundation beautifully to a flawless finish. Even when I skip my primer, which is more often than not these days, my foundation still looks really good thanks to the BB. (In case you're curious, I'm currently using Revlon ColourStay for normal/ dry skin in Fresh Beige. I'm really liking it and I'll do a review later on good drugstore finds.) Since my SPF/ moisturizer combo from Consonant Skincare acts like a magnet for foundation I find it's ideal to use the BB for everyday use.
To use the BeautyBlender, just run it under water until it doubles in size and squeeze as much water out of it as you can. I like to dot my foundation on all over my face using my fingers and then I blend it into my skin using the BB. It blends my foundation without much effort which is excellent when I'm in a rush - which is most of the time. I use the round end to blend foundation on my cheeks forehead and chin, and then I use the tapered end for smaller areas like around the eyes, nose and chin.
Based on the reviews from the Sephora website, the Red Carpet edition is a bit smaller and firmer than the original. Since this is my first BB, I don't have anything to compare it to but I totally love it. I much prefer it to the foundation brush that I was using before because it's easier to work with.
There are a few things that really annoyed me about this product. Aside from the fact it's a $30 sponge, it's delicate (because it's a sponge!) and the first time I used it, my earring pierced the sponge and took a chunk out of it. Whoops. It's also very difficult to clean. I'm really anal retentive about cleaning my makeup brushes so after the first couple of times I used the BB, I wanted to give it a wash. Instead of foundation washing off the sponge, I was horrified to find that it was bright red dye coming off my BB! Why did the manufacturer think that dying it in such a manner where the colour runs off was a good idea? As I kept washing it, with soap under running water, I noticed the foundation was budging.
CLEANING YOUR BEAUTY BLENDER
I did a lot of research to figure out how to clean the Beauty Blender and this is what I came up with that finally worked!
Pour some boiling water into a small container and put your Beauty Blender in. Let it sit for a few minutes to sanitize and remove it from the water and let cool for a bit before handling.
Remove the hot water from the container and fill with new warm tap water and some dish soap. (I used Seventh Generation Free & Clear.)
Place your BB into the container and keep squeezing the sponge to get rid of all of the makeup. Be patient because this takes time. I had to empty the container and refill it with new water about 3 times to get it totally clean but that's just me being OCD. It took about 10 minutes to wash the BB but I finally got all of the foundation out along with a lot of the red dye. After my BB was clean it was no longer bright red but more orange. At least it was clean and germ free!
BB does have an official cleaner but apparently it works as well as regular soap. I think the secret to getting the BB clean is in the method as per my above directions. Make sure you take the time to clean it properly and sanitize it because germs thrive in dirty wet sponges.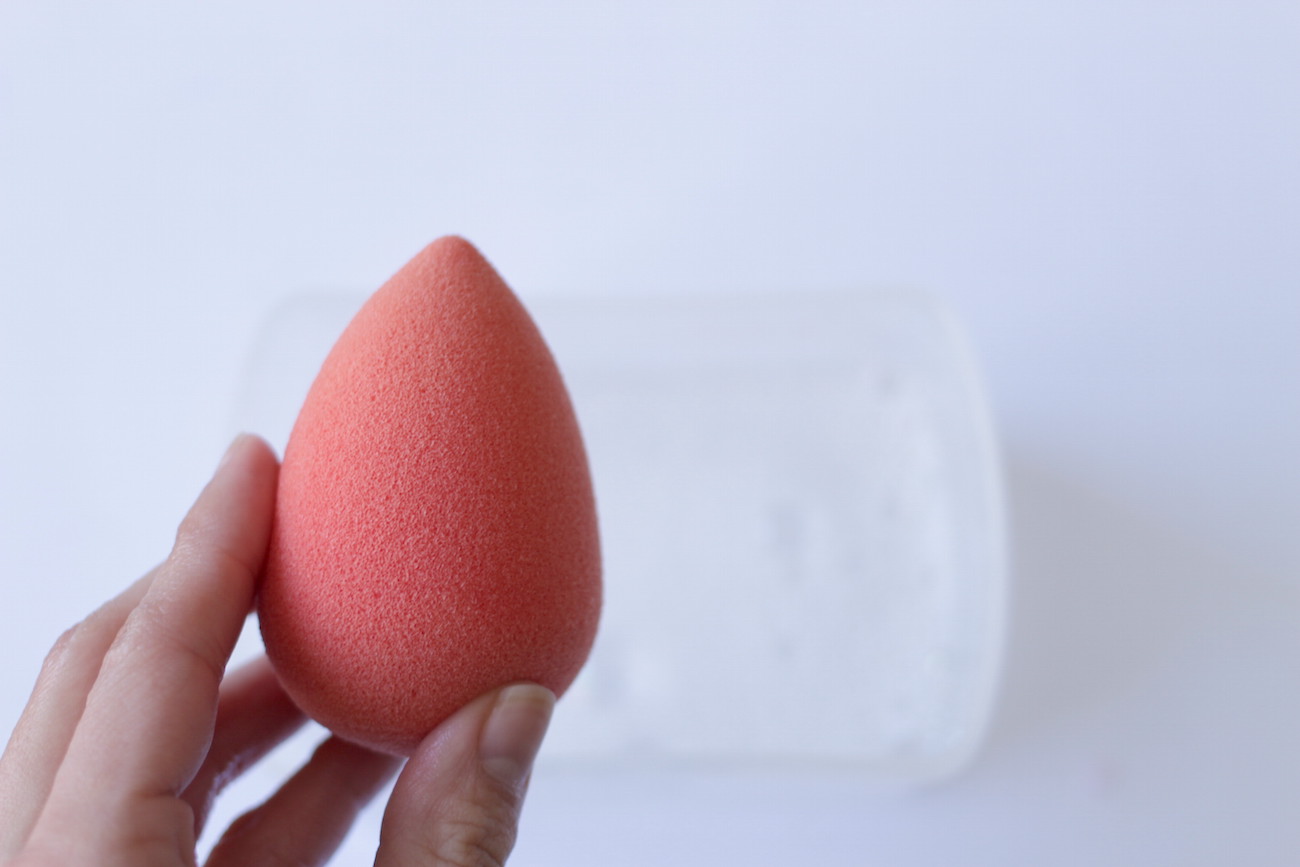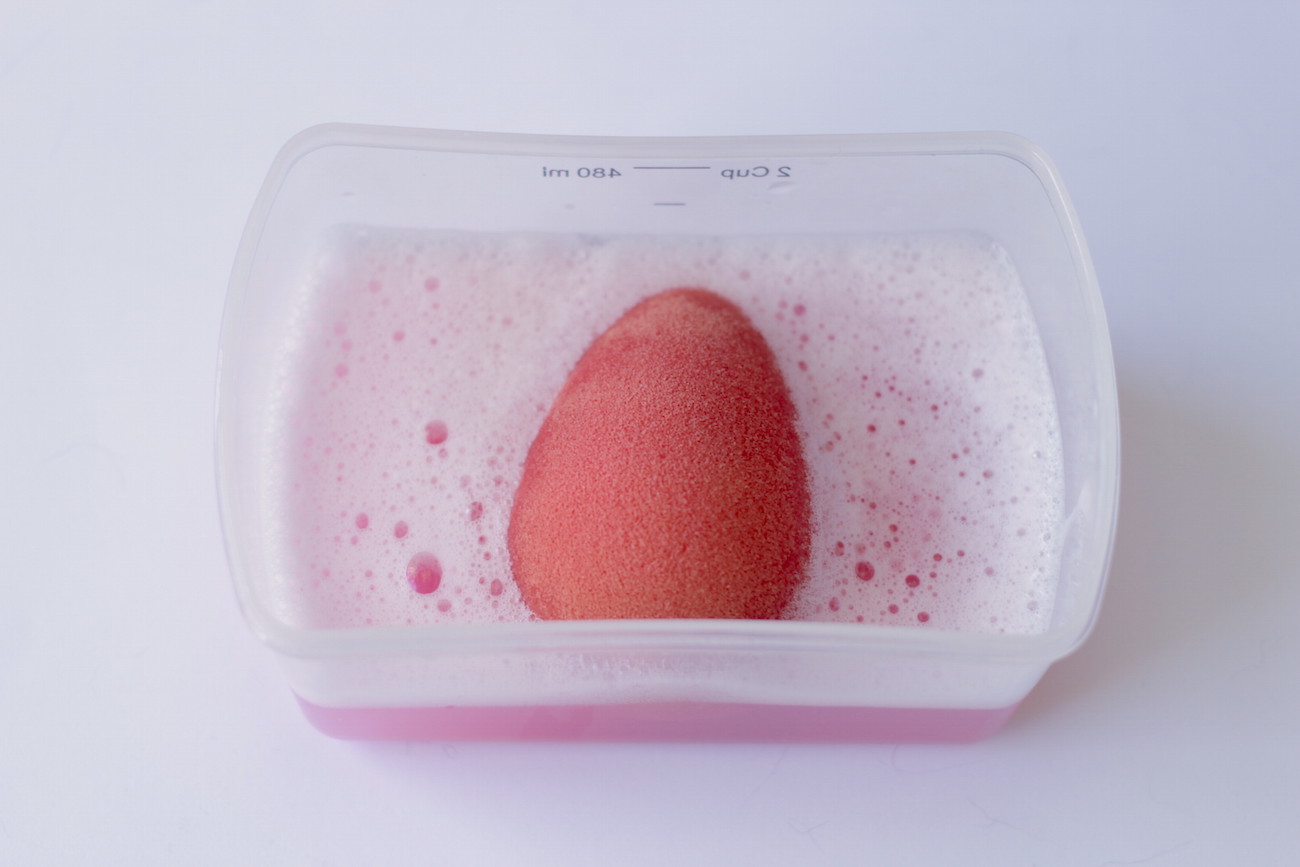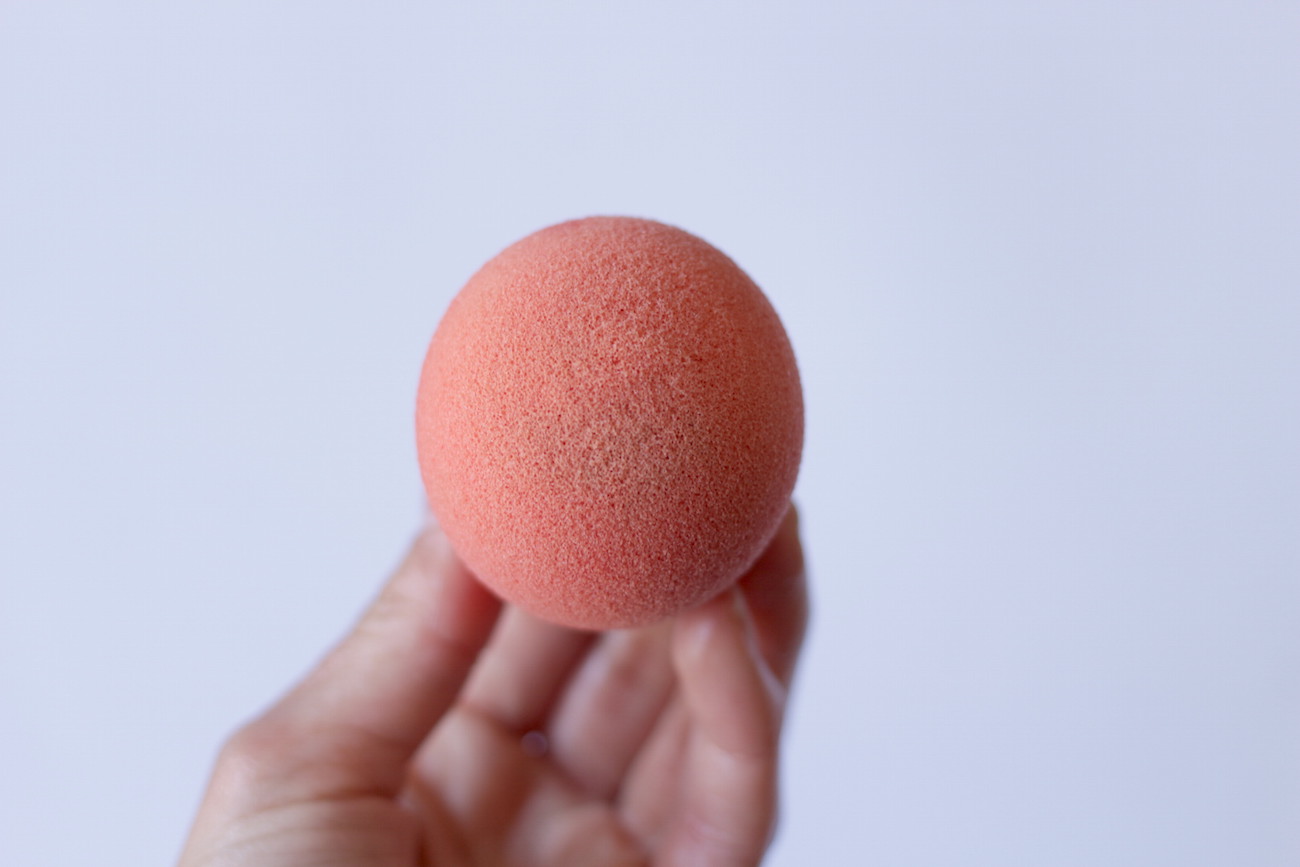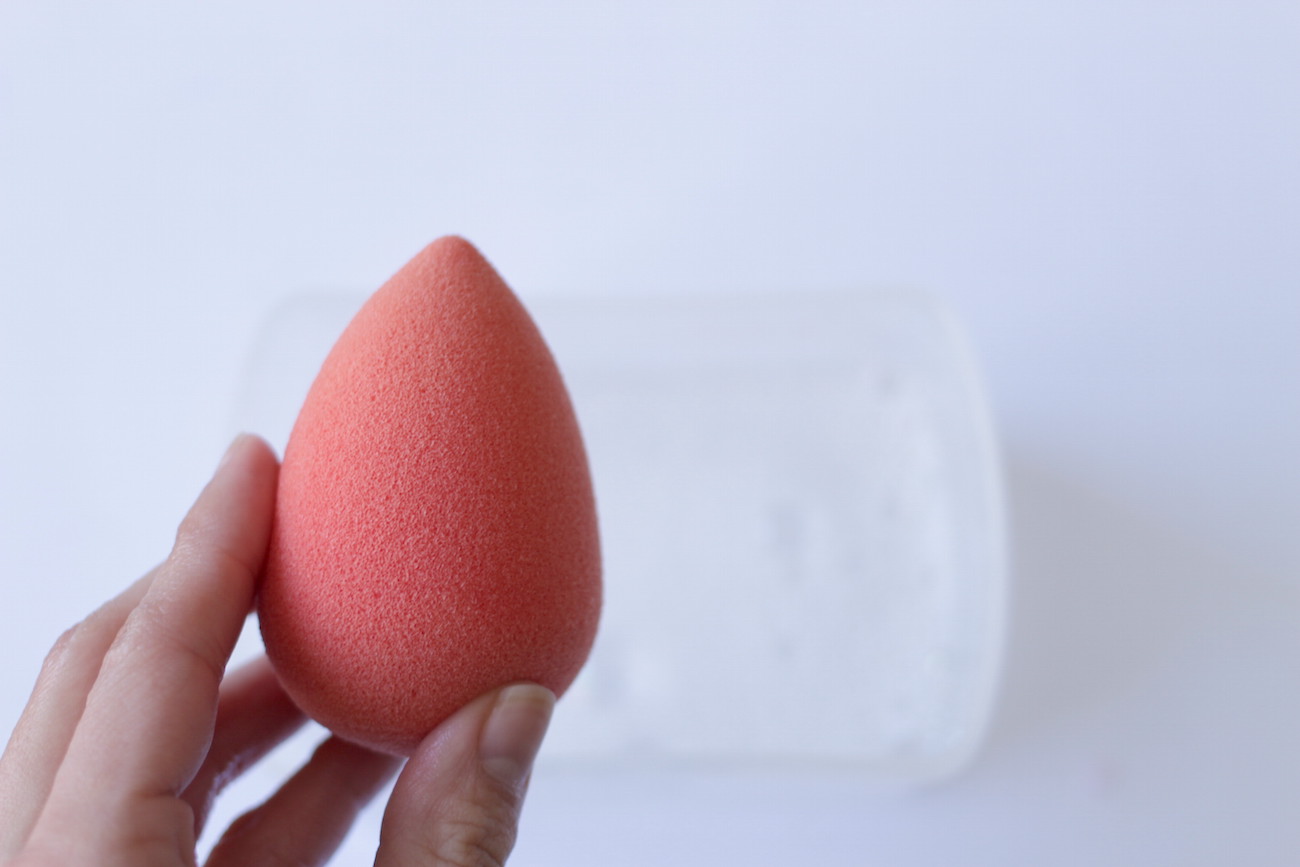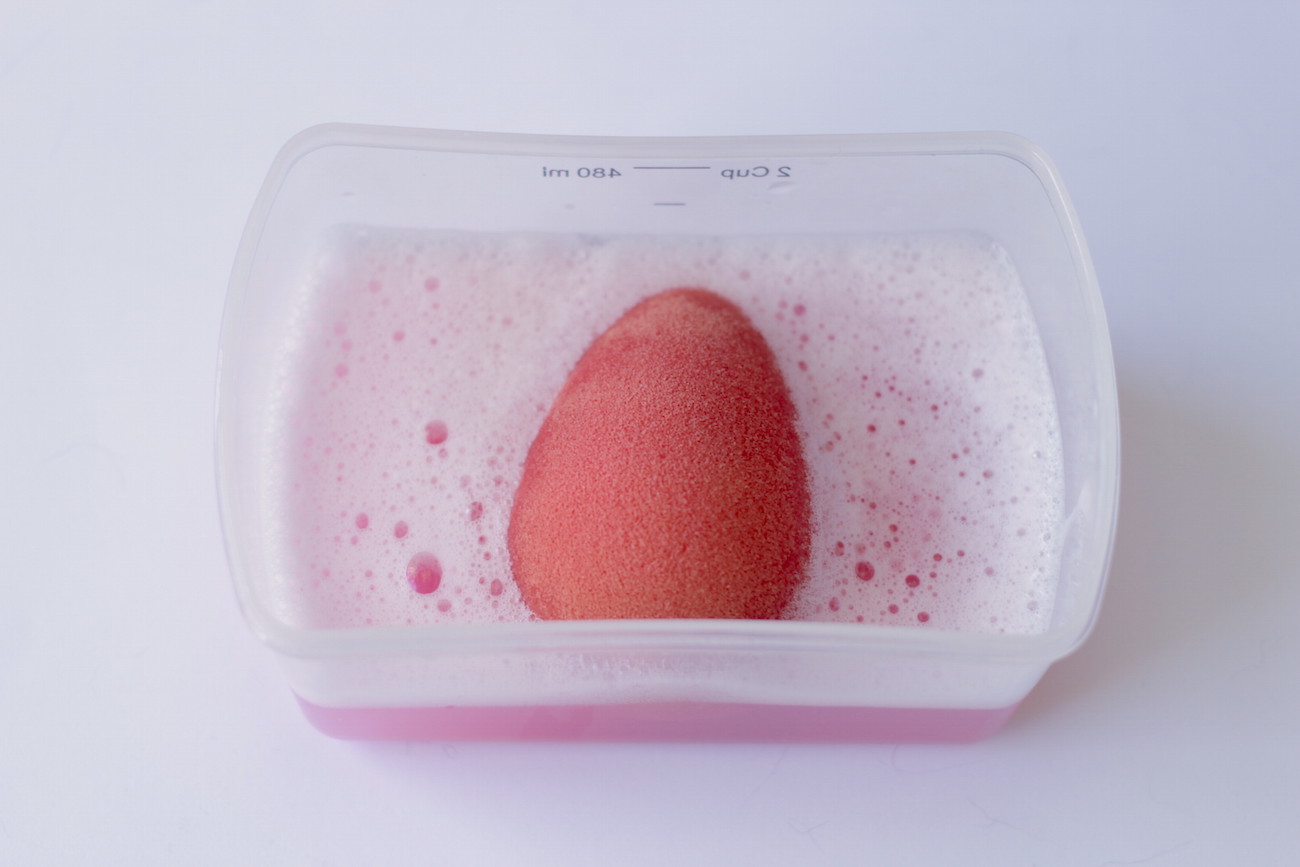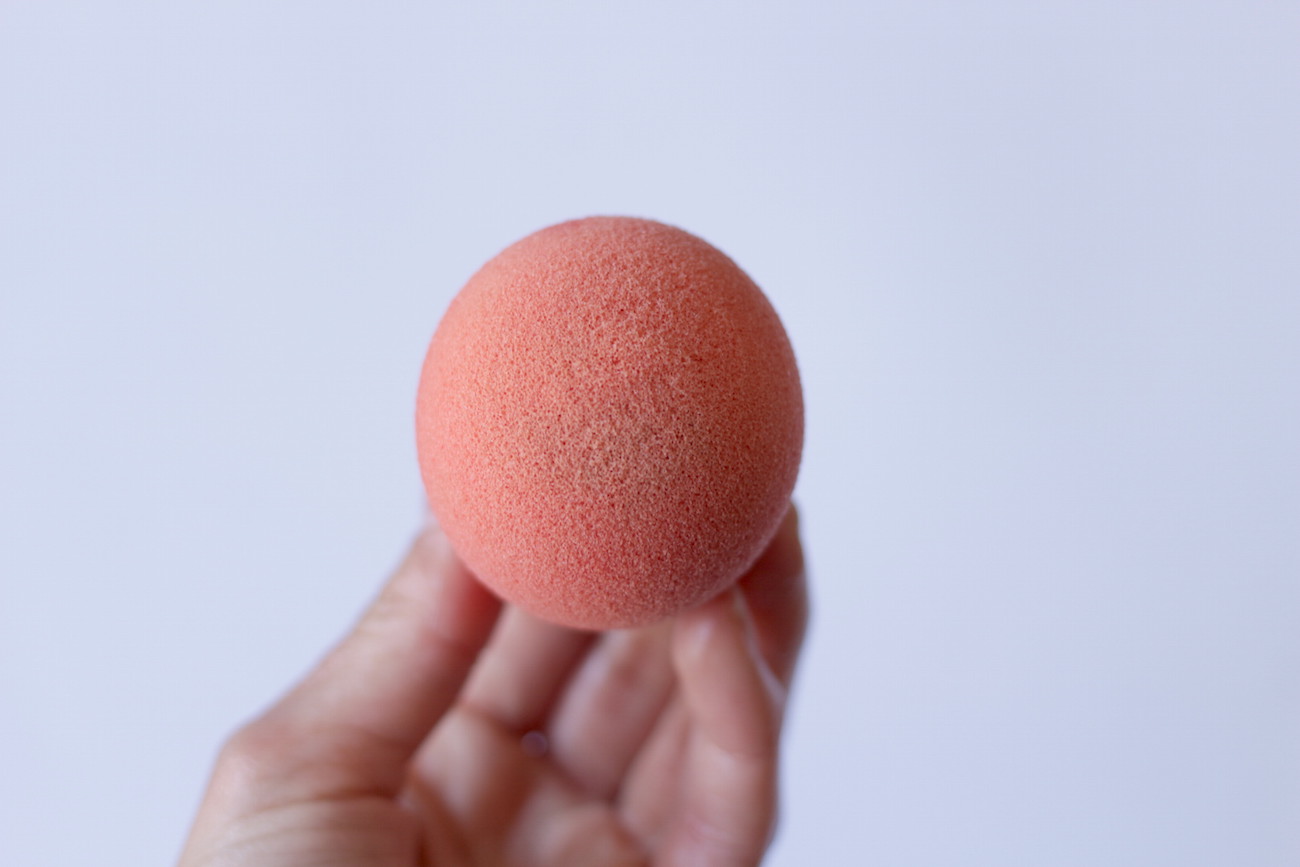 PROS
Blends foundation easily and quickly.
User friendly.
Leaves makeup looking FLAWLESS.
CONS
Pricey.
Very difficult and annoying to clean.
Can be a breeding ground for germs if you don't care for it properly that can cause pimples and cysts.
It can tear if you're not careful.
Saturated with dye.
Overall, I really like this product. I'll probably get the Beauty Blender Micro Mini next because I find the tapered end of the full sized BB is still too big to blend concealer around my eyes properly.