021715 Mendocino SS15 Shopping
I stopped by Mendocino the other day to check out their spring collection and to take advantage of their complimentary personal shopping service. As you guys know, I'm an online shopper and to be honest I can get overwhelmed stepping into a store. I'm not talking about the shoe or handbag department here. I'm talking about sifting through racks and racks of clothing. Shopping with the ladies at Mendo made my experience easier and really fun! The best part was trying on different things that I wouldn't normally go for, like the harem pant jumpsuit and the highly coveted One Teaspoon super ripped denim.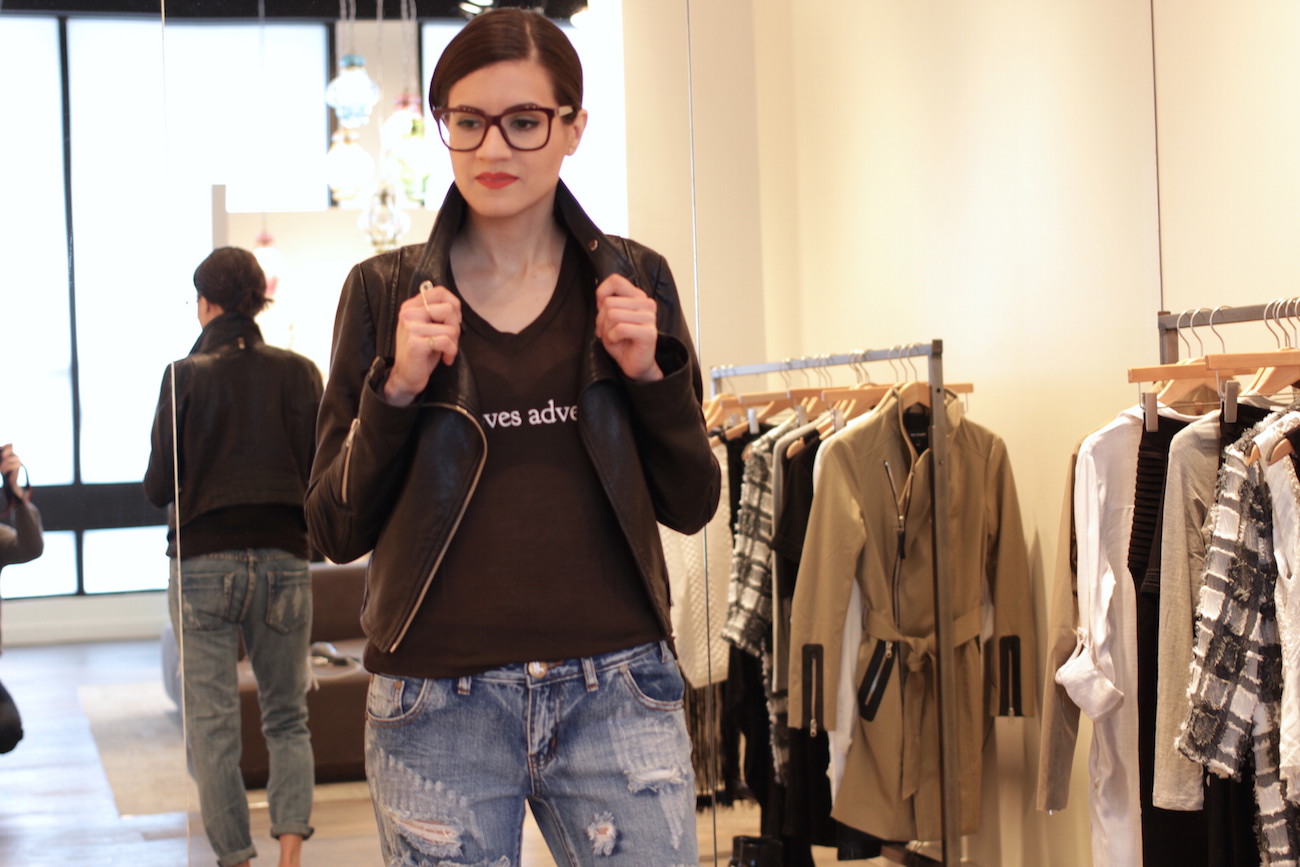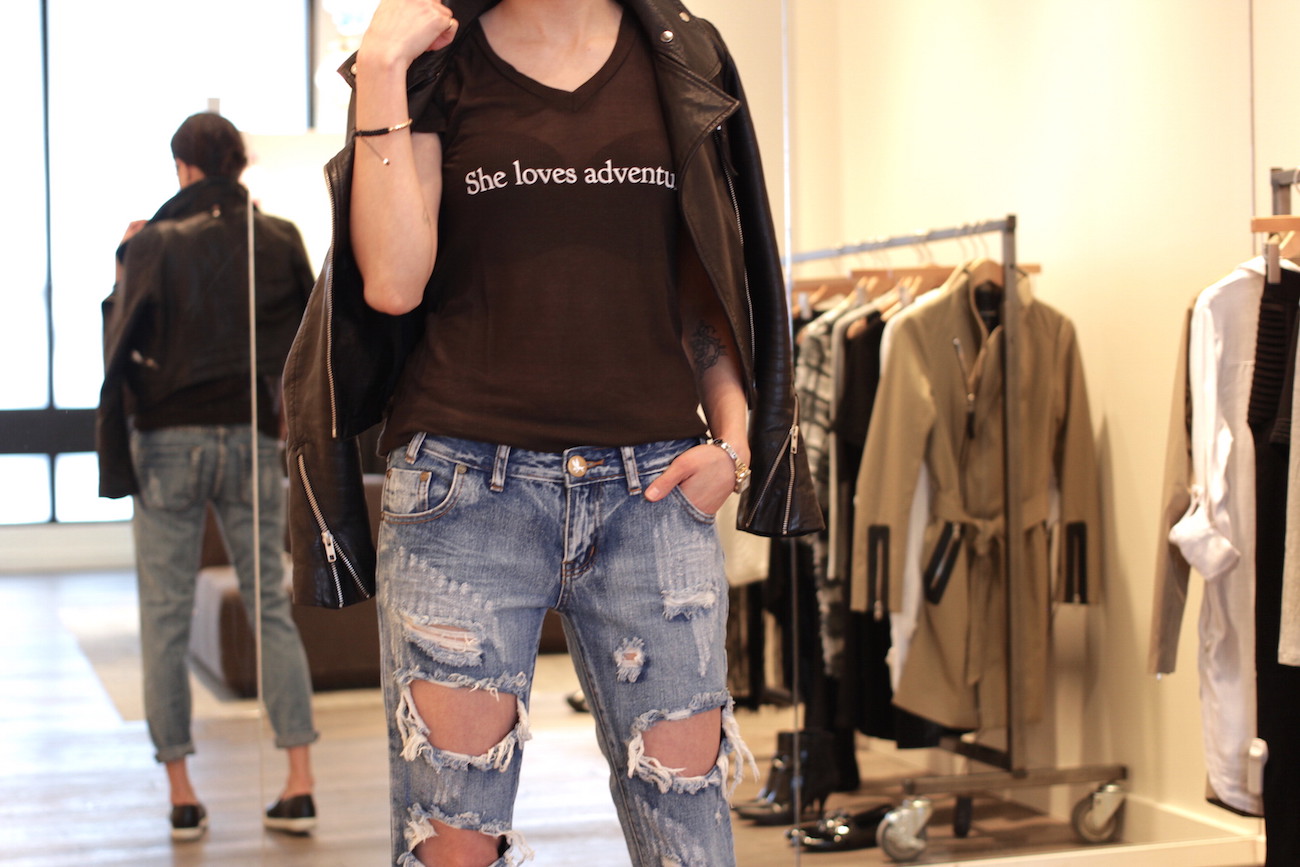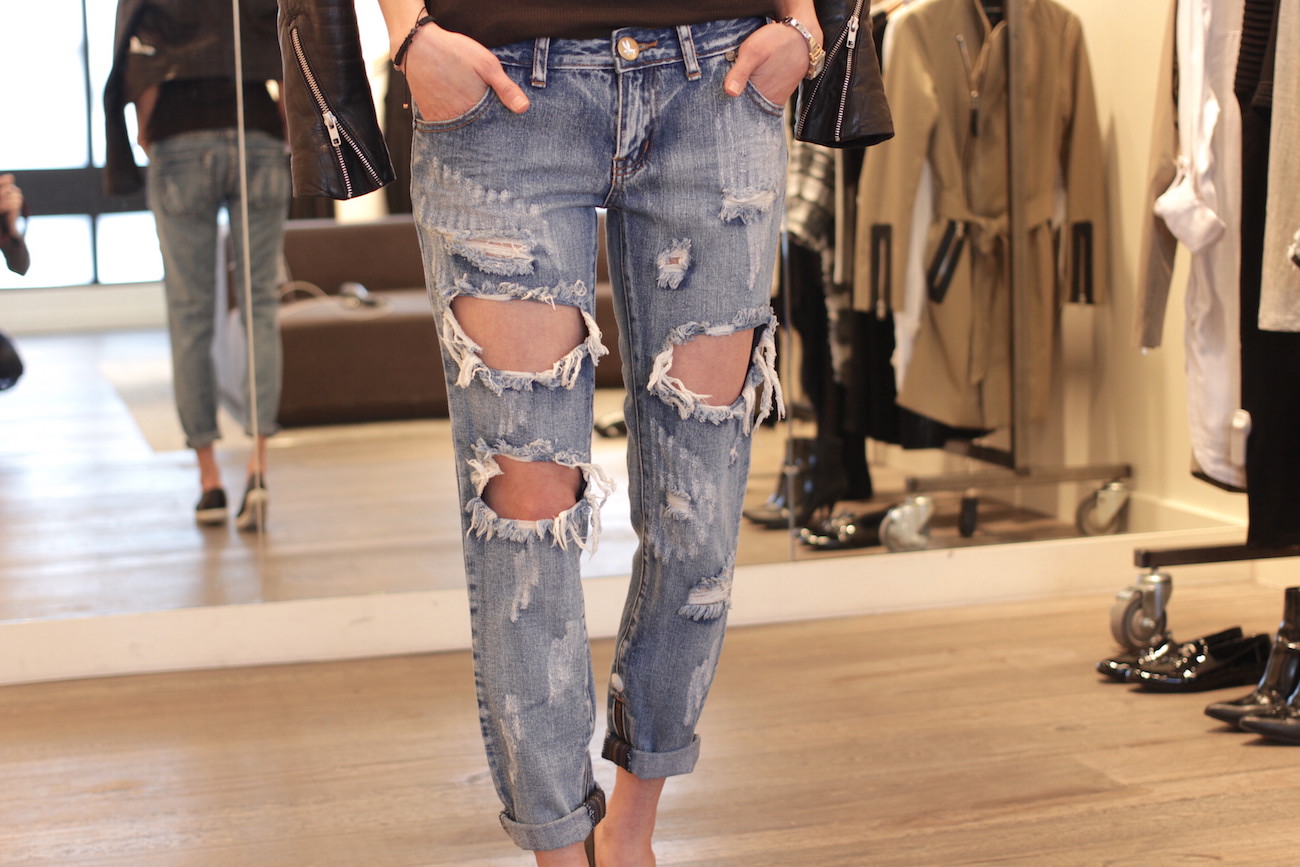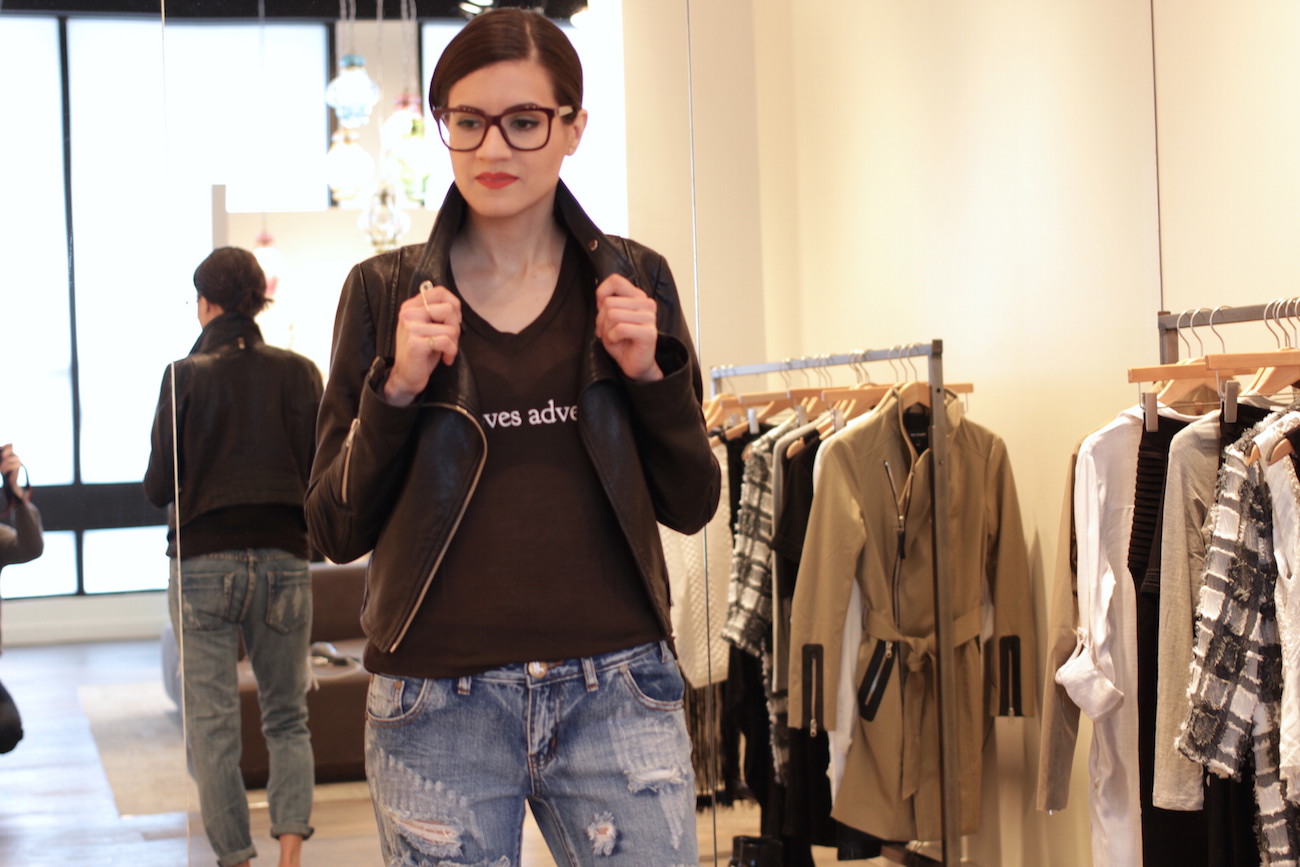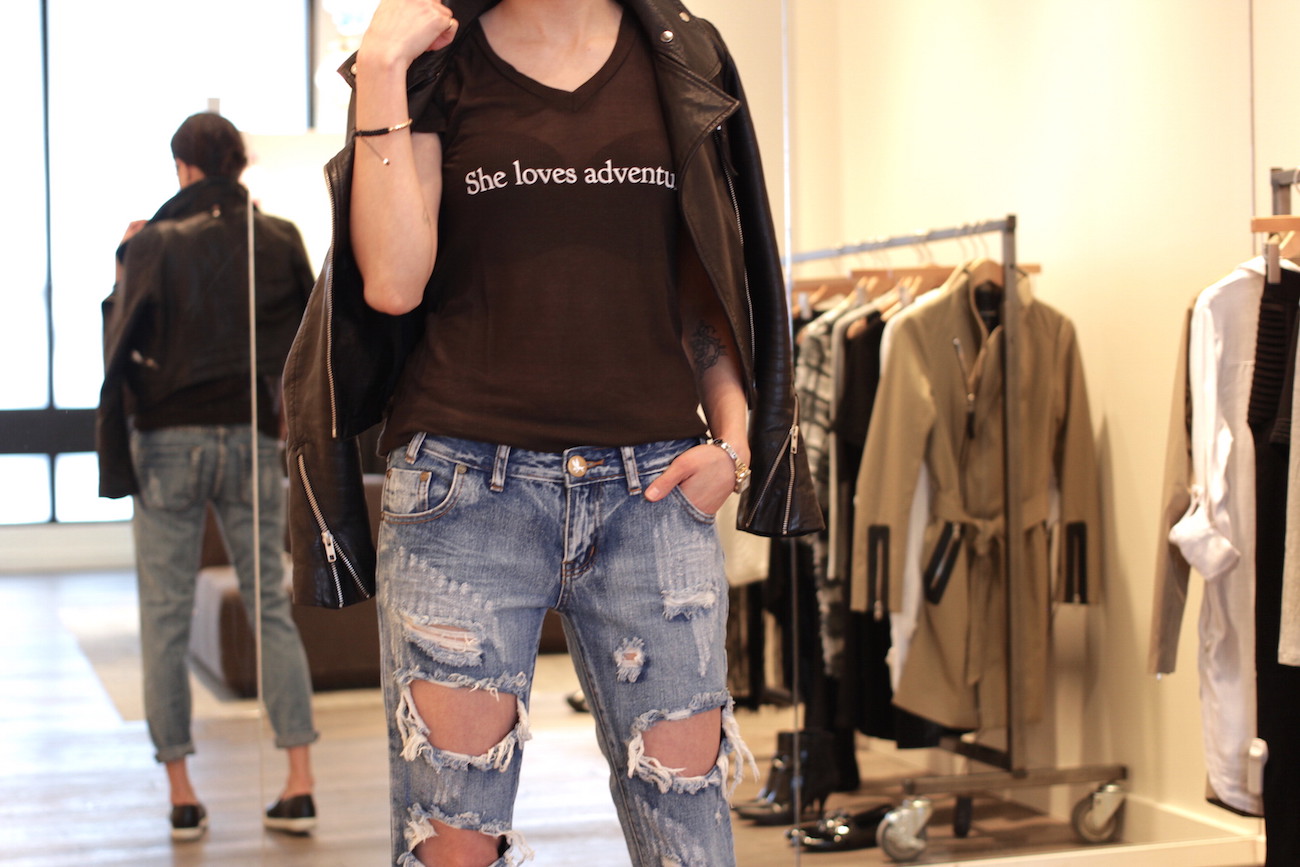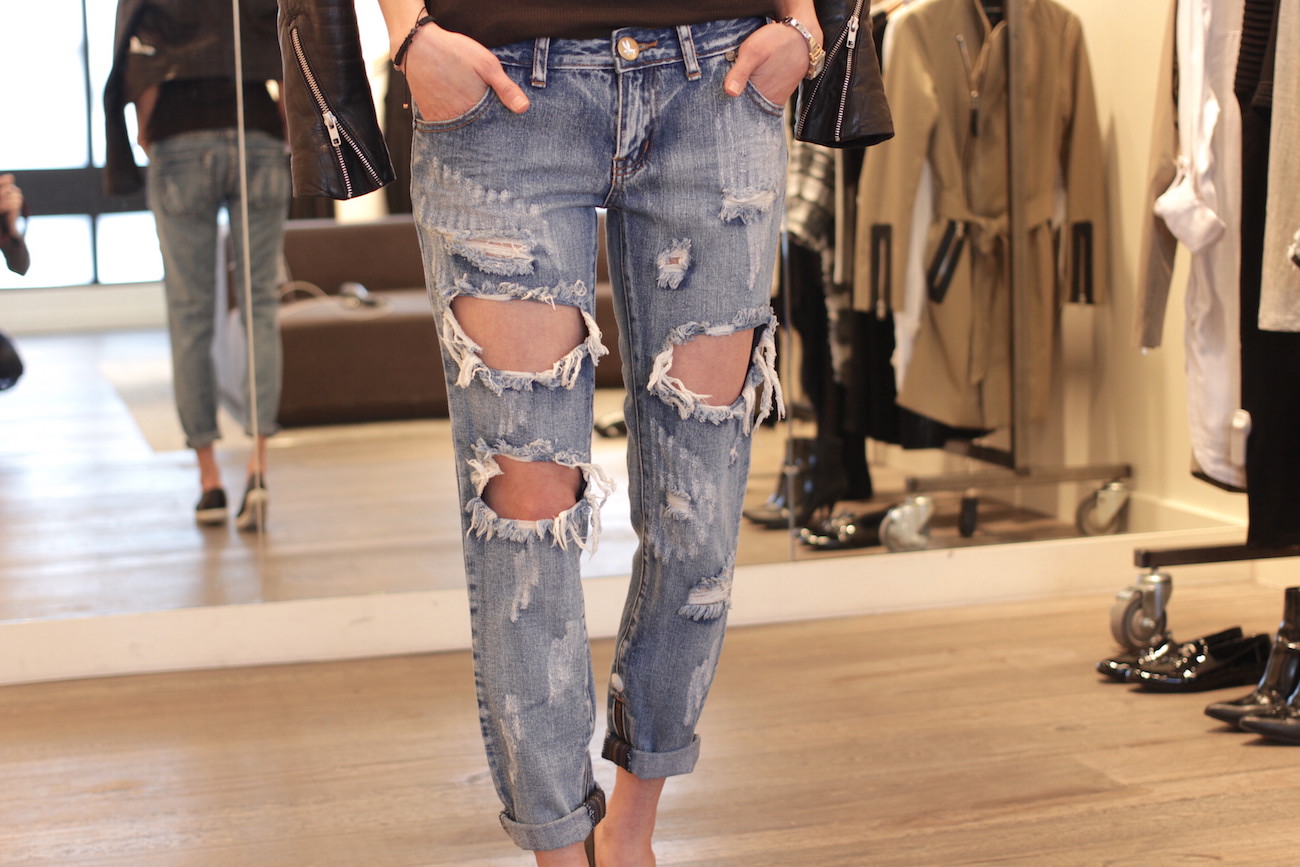 I've been seeing these One Teaspoon jeans all over IG and I was super excited to try them on but sadly they're not for me. I wanted to love them but I felt really out of my element. This Wilfox shirt on the other hand is perfect. Sheer, black and cute. I can see myself wearing this a lot!
MENDOCINO: One Teaspoon jeans, $126. Wildfox tee, $80.
MY PIECES: Mackage jacket. Miu Miu slip ons.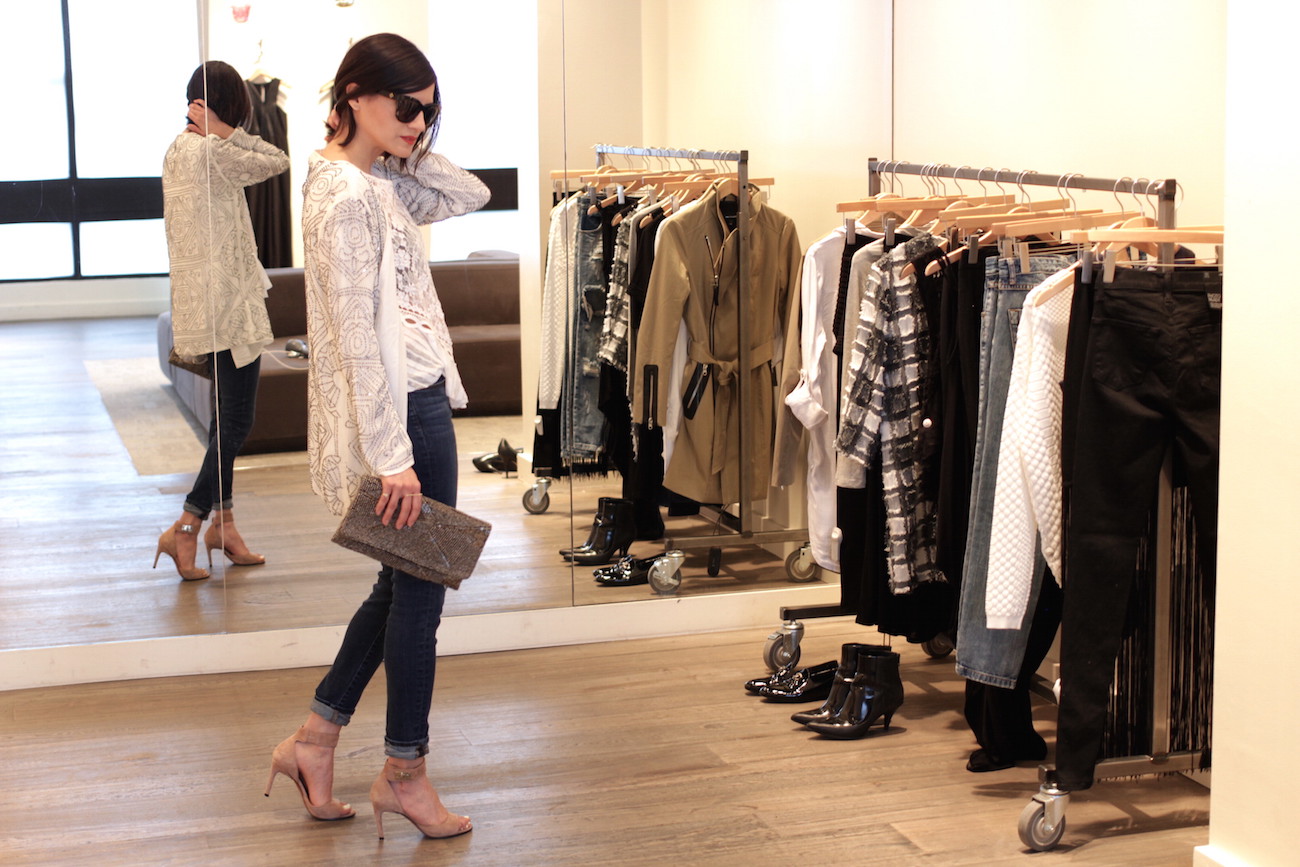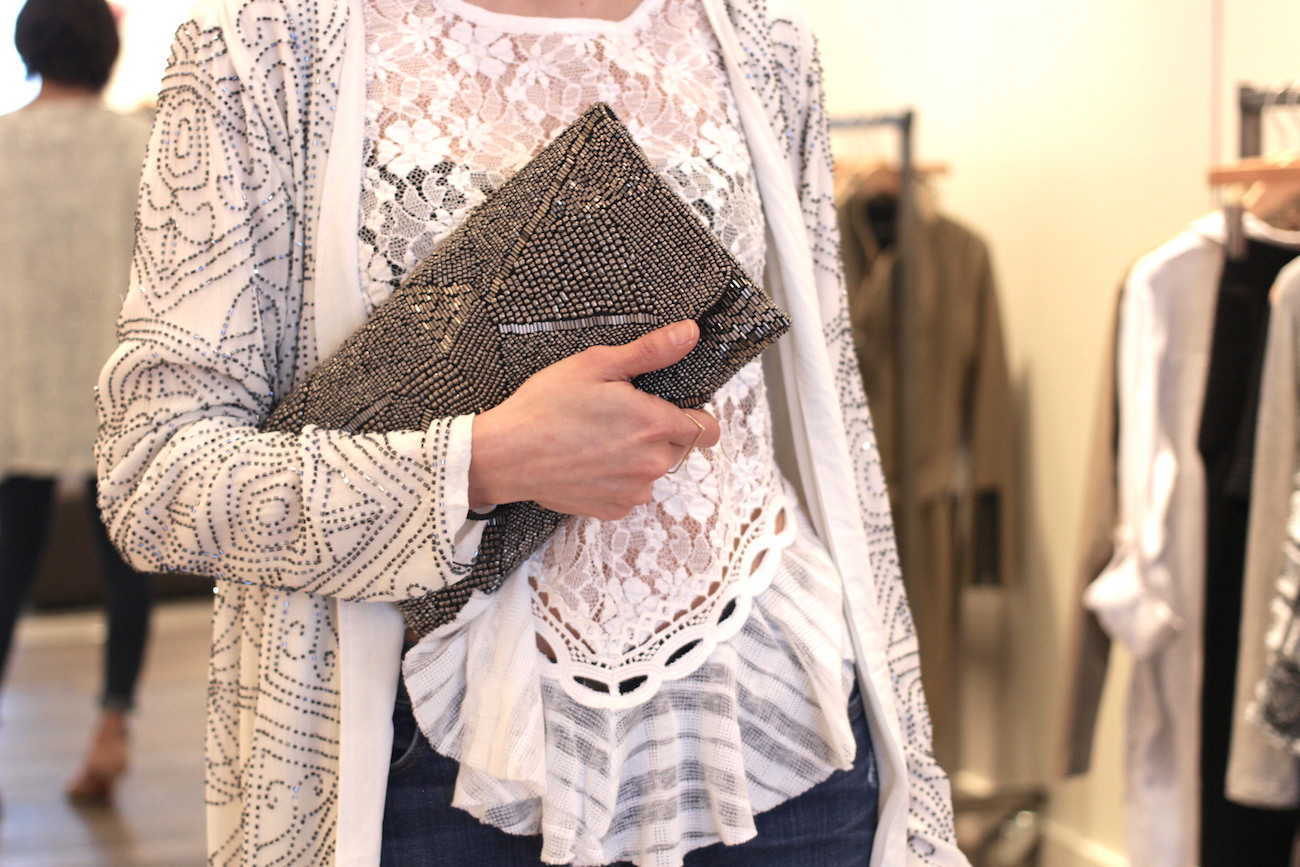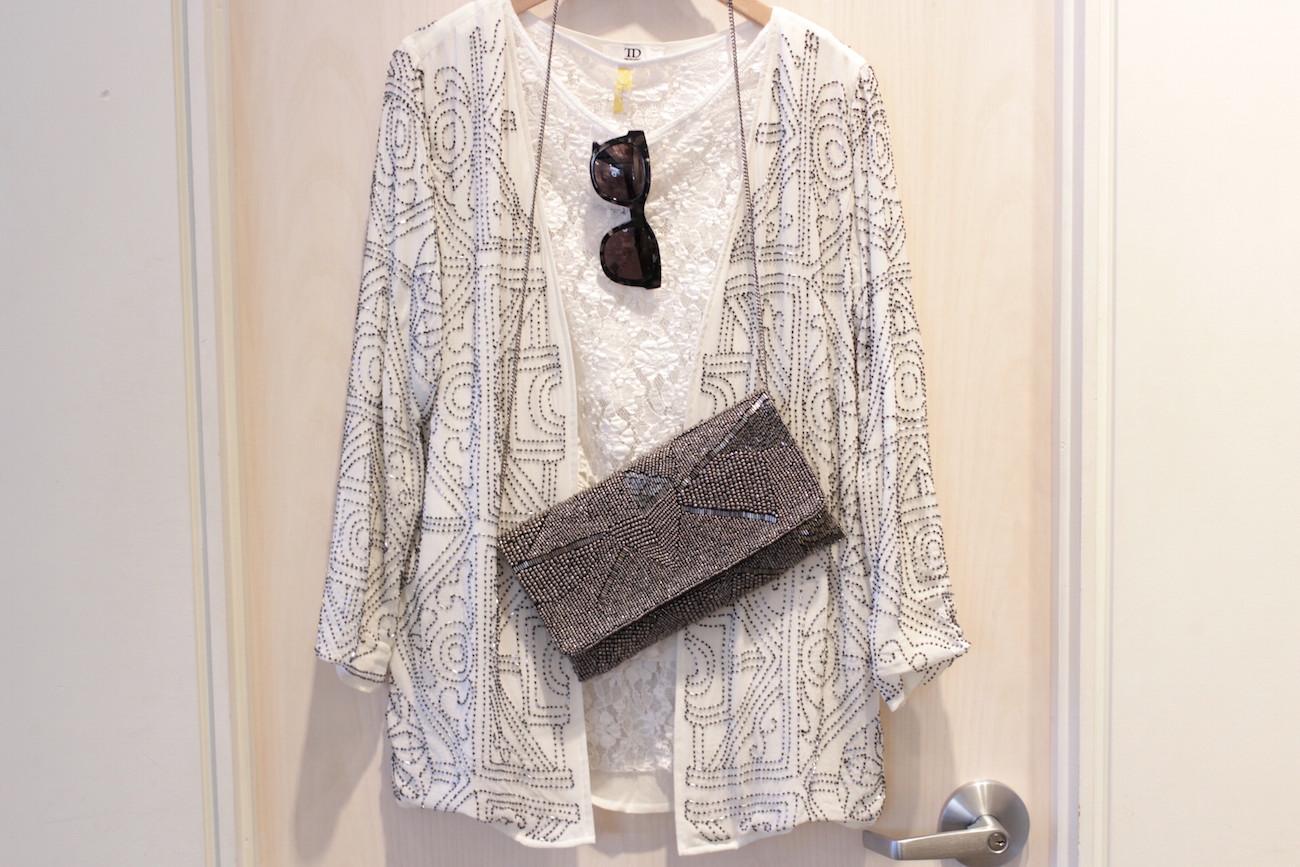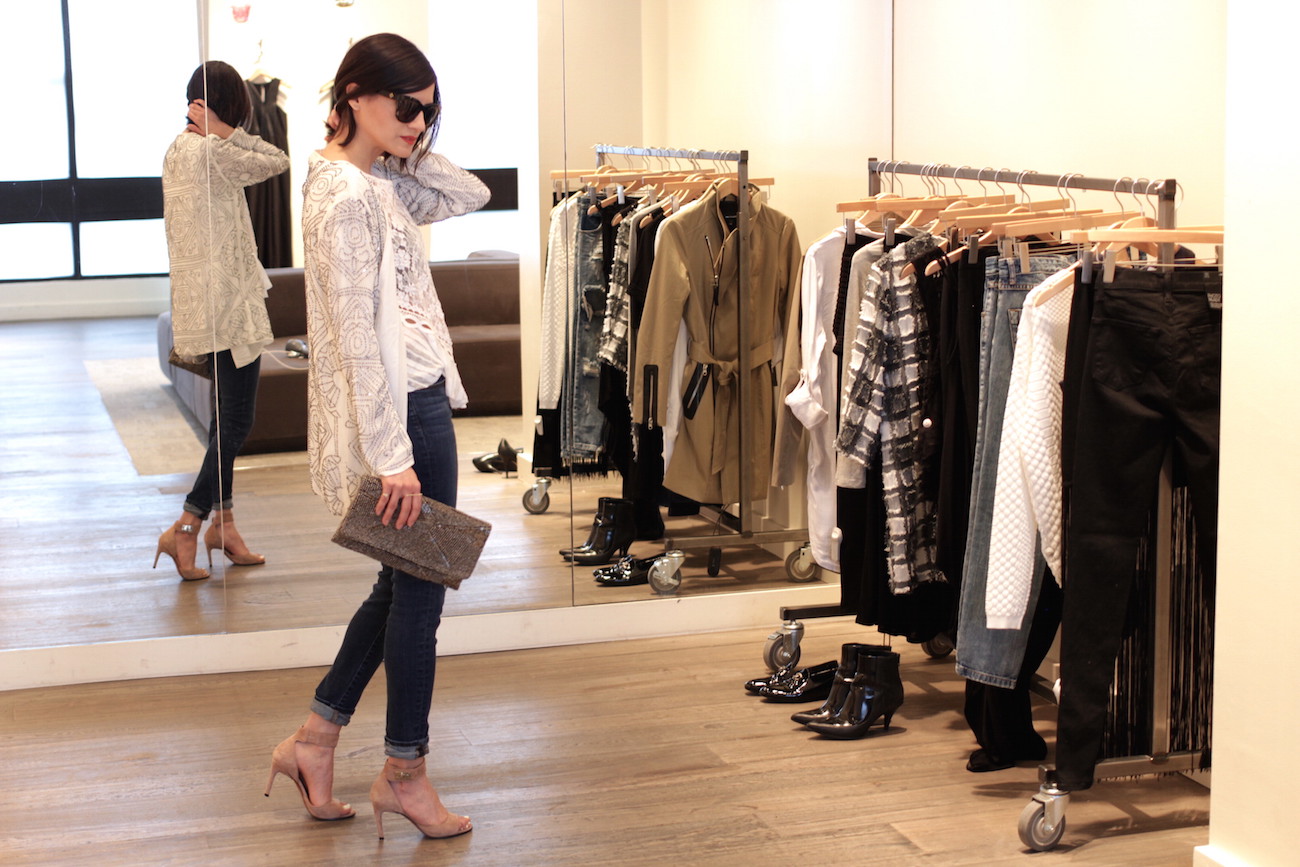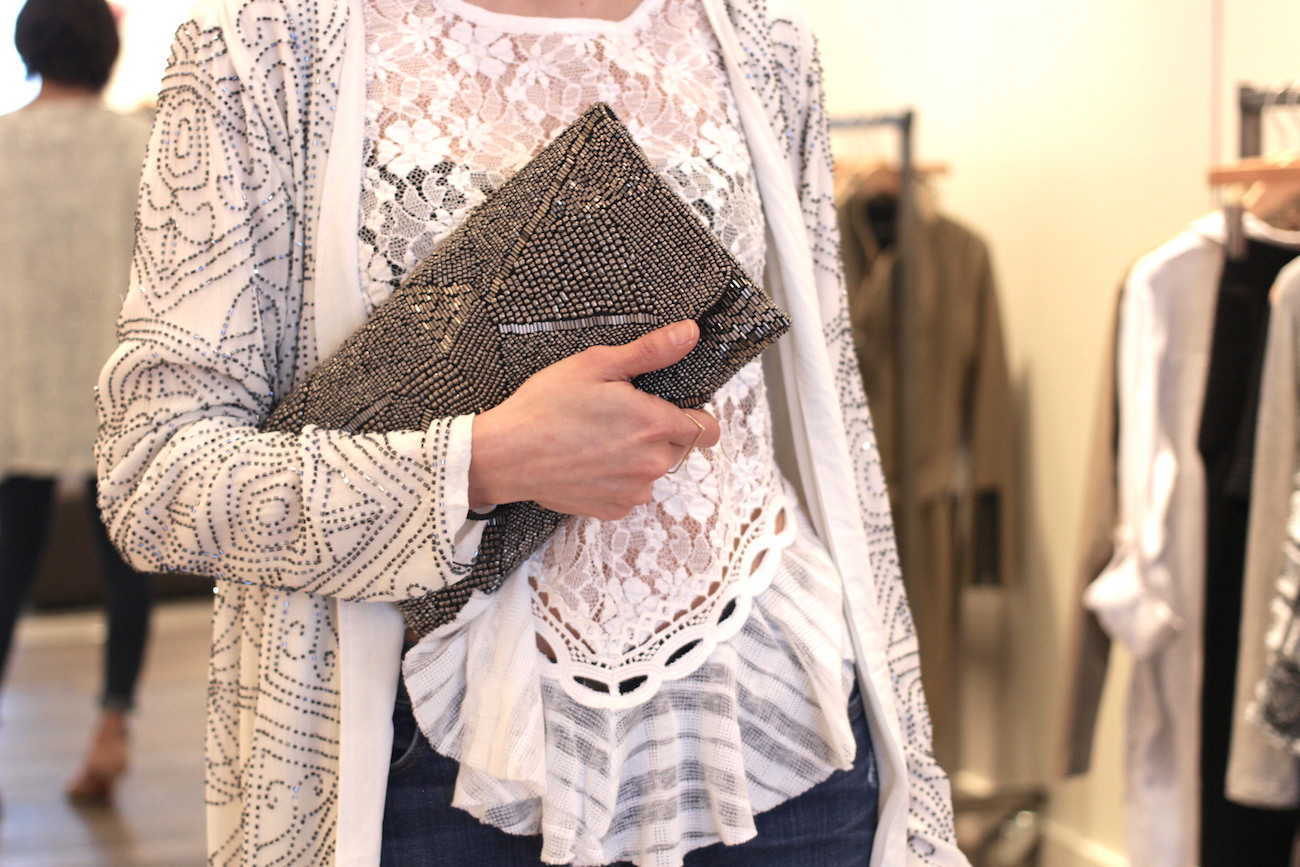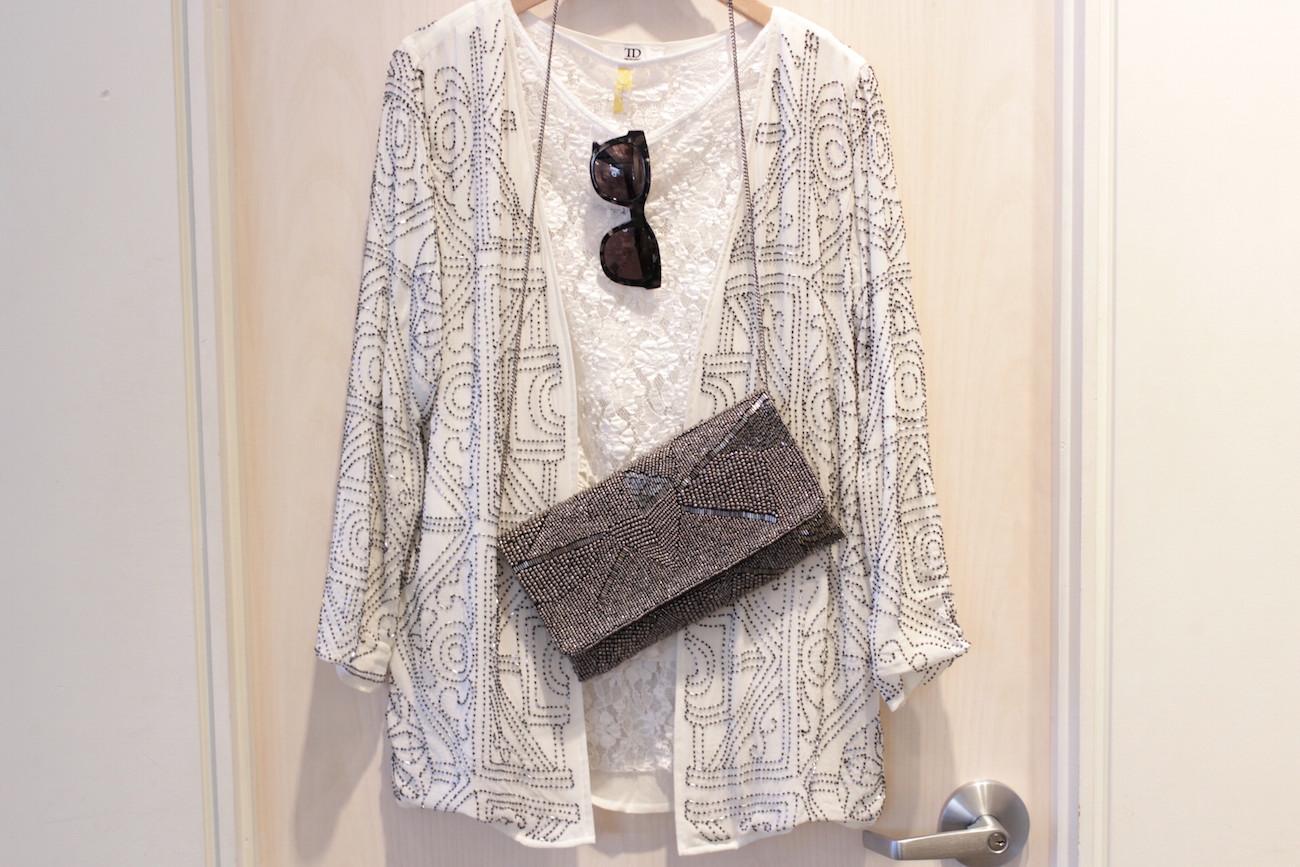 Hello date night! When Niki picked out this cute Free People top, I wasn't all that sure but once on, I really liked it. The beaded kimono is by Glamorous, which is totally how I felt. You guys know how much I love mixing textures and that's exactly what i did here with the beading and lace.
MENDOCINO: Free People top, $88. Glamorous beaded kimono, $255. St. Xavier beaded clutch, $165 (Australian brand new to Mendocino.). Wonderland sunglasses, $210 (From California. New to Mendocino.)
MY PIECES: Jbrand jeans. Givenchy heels.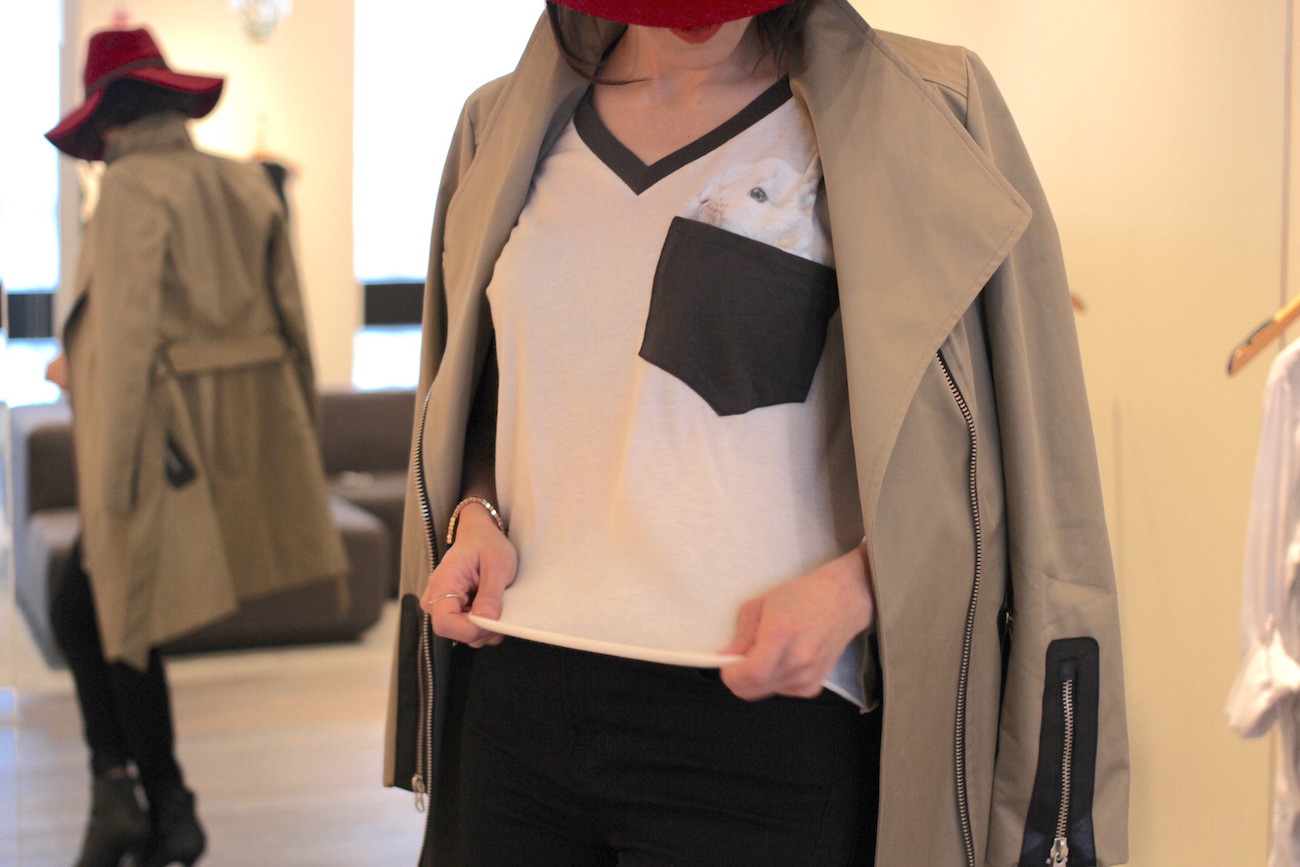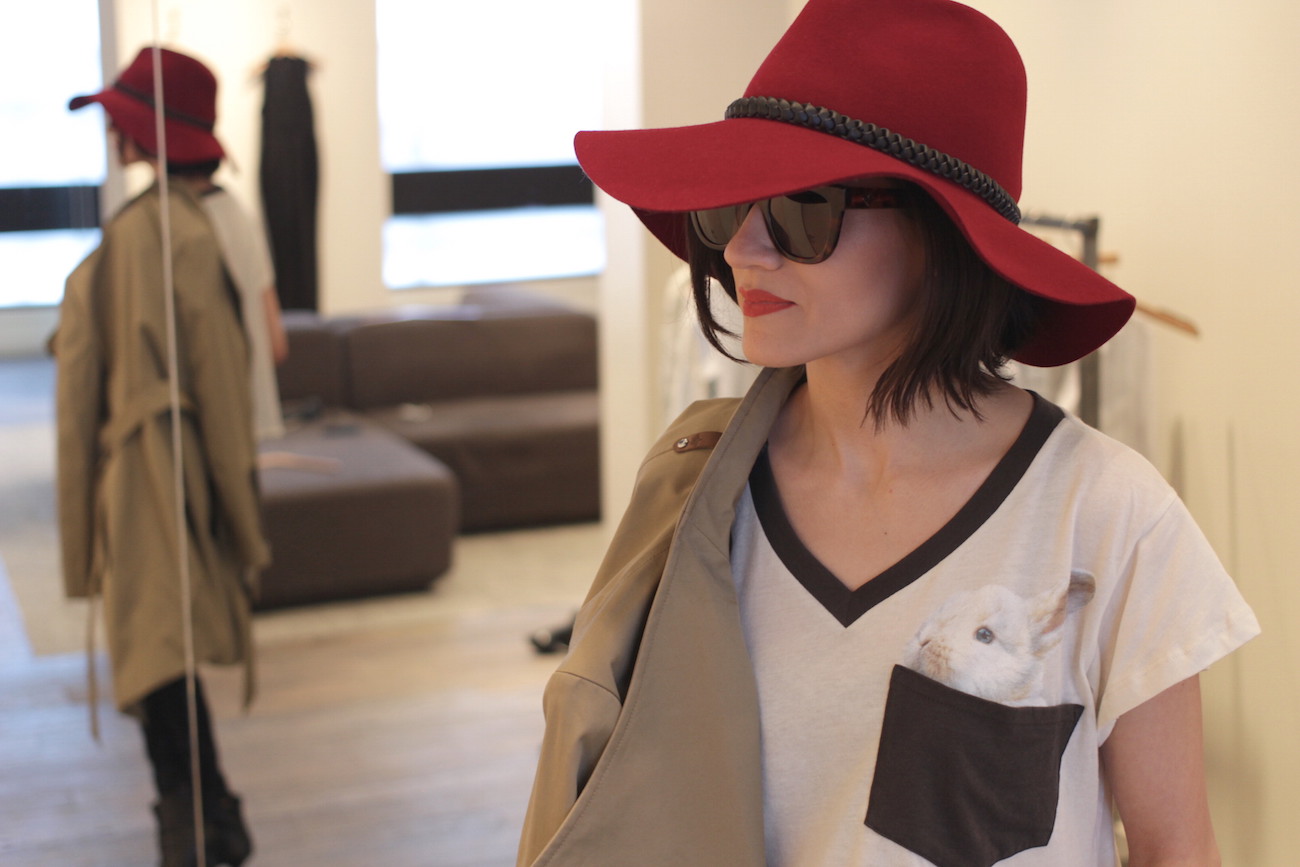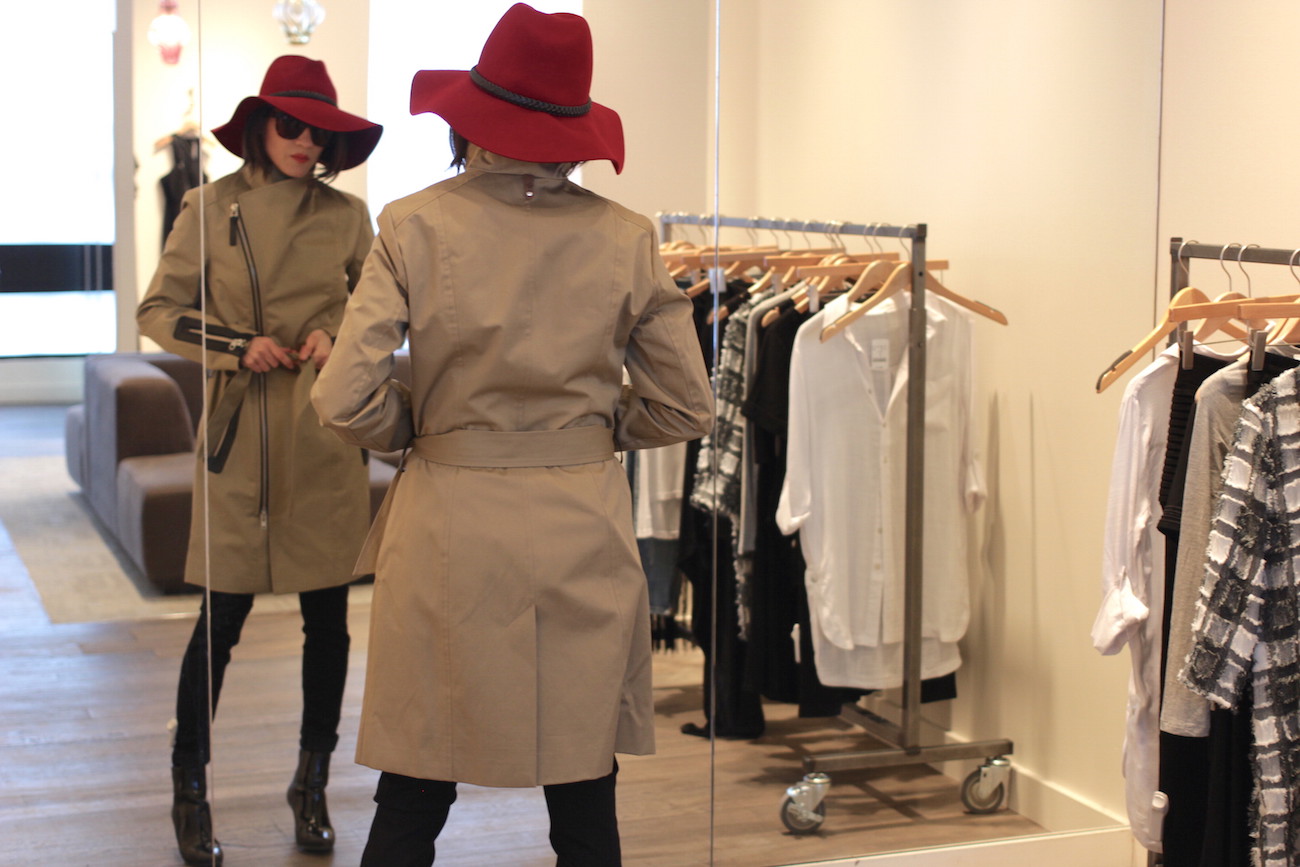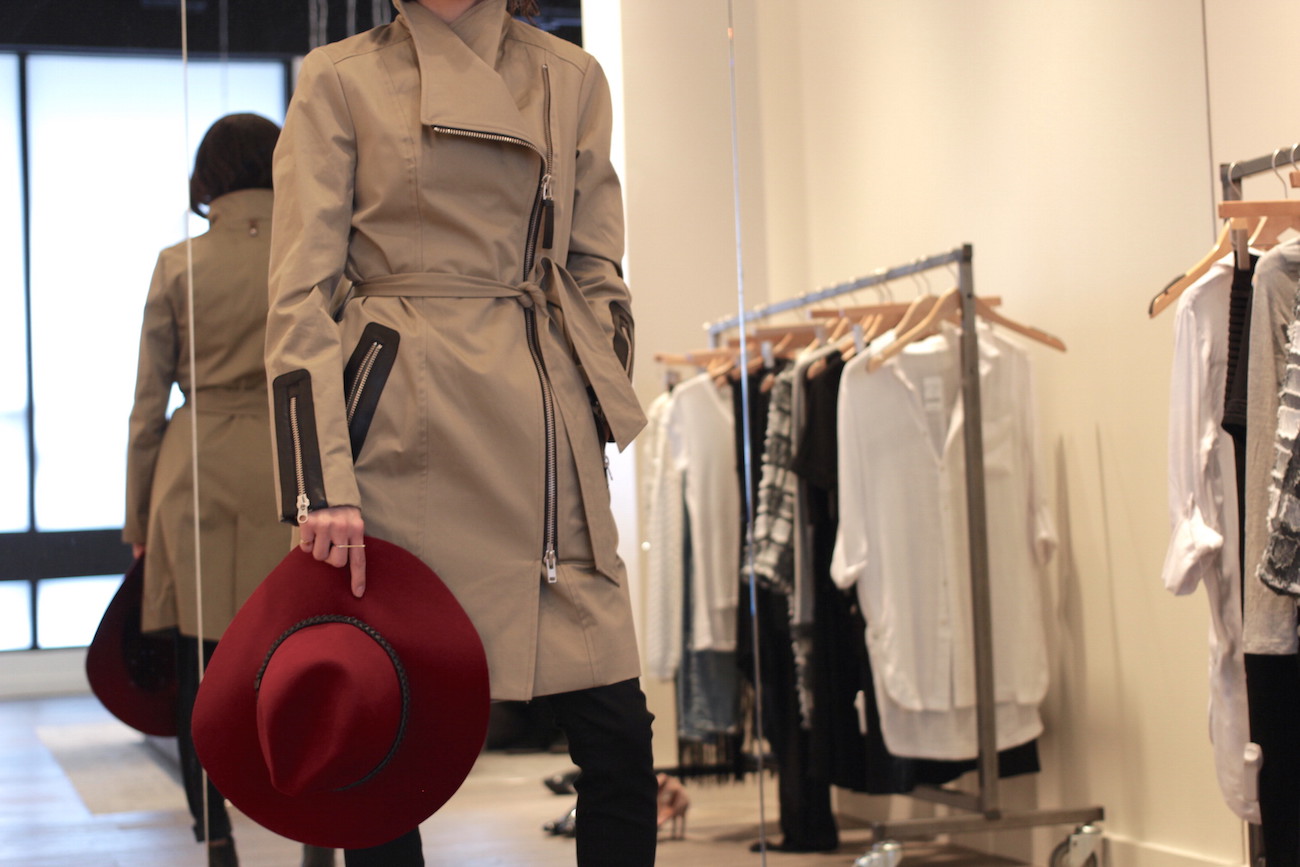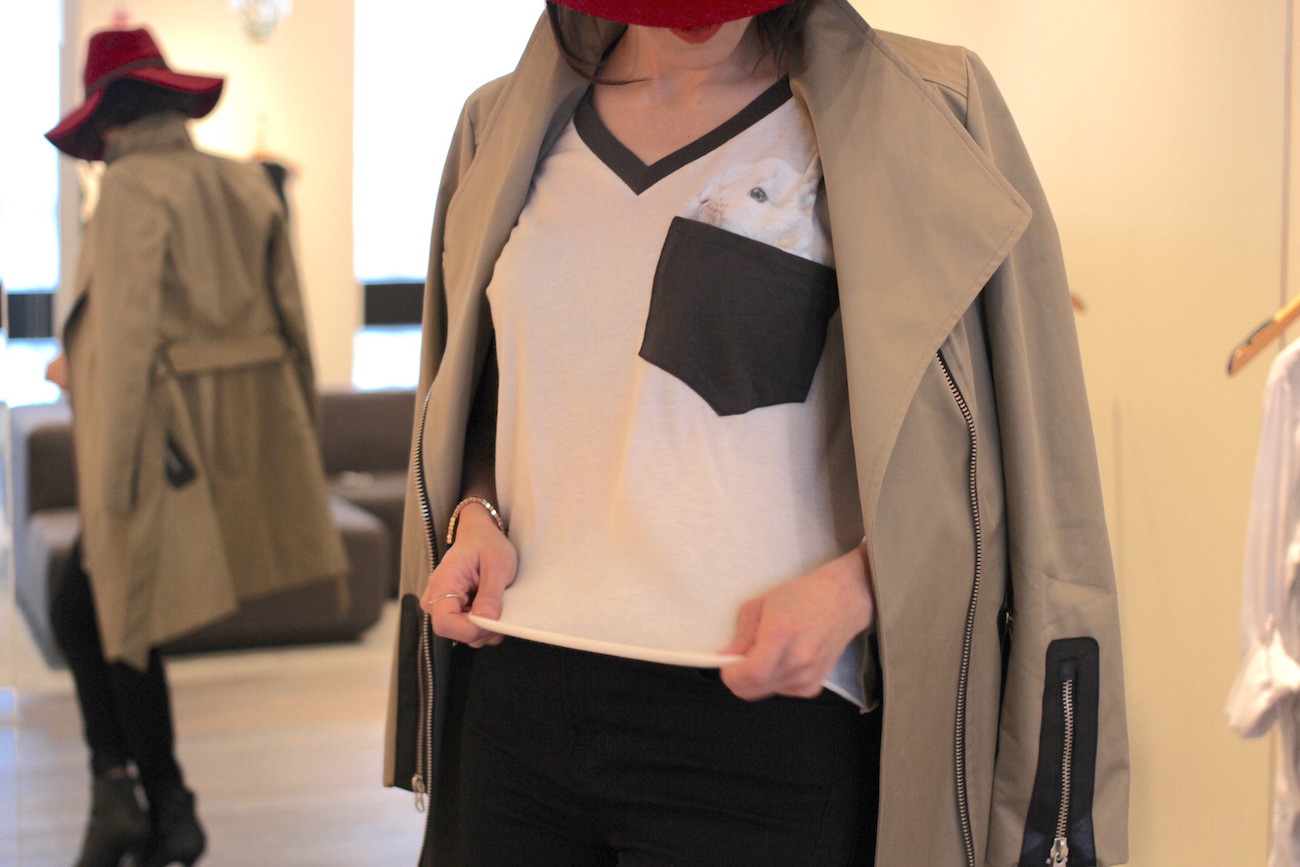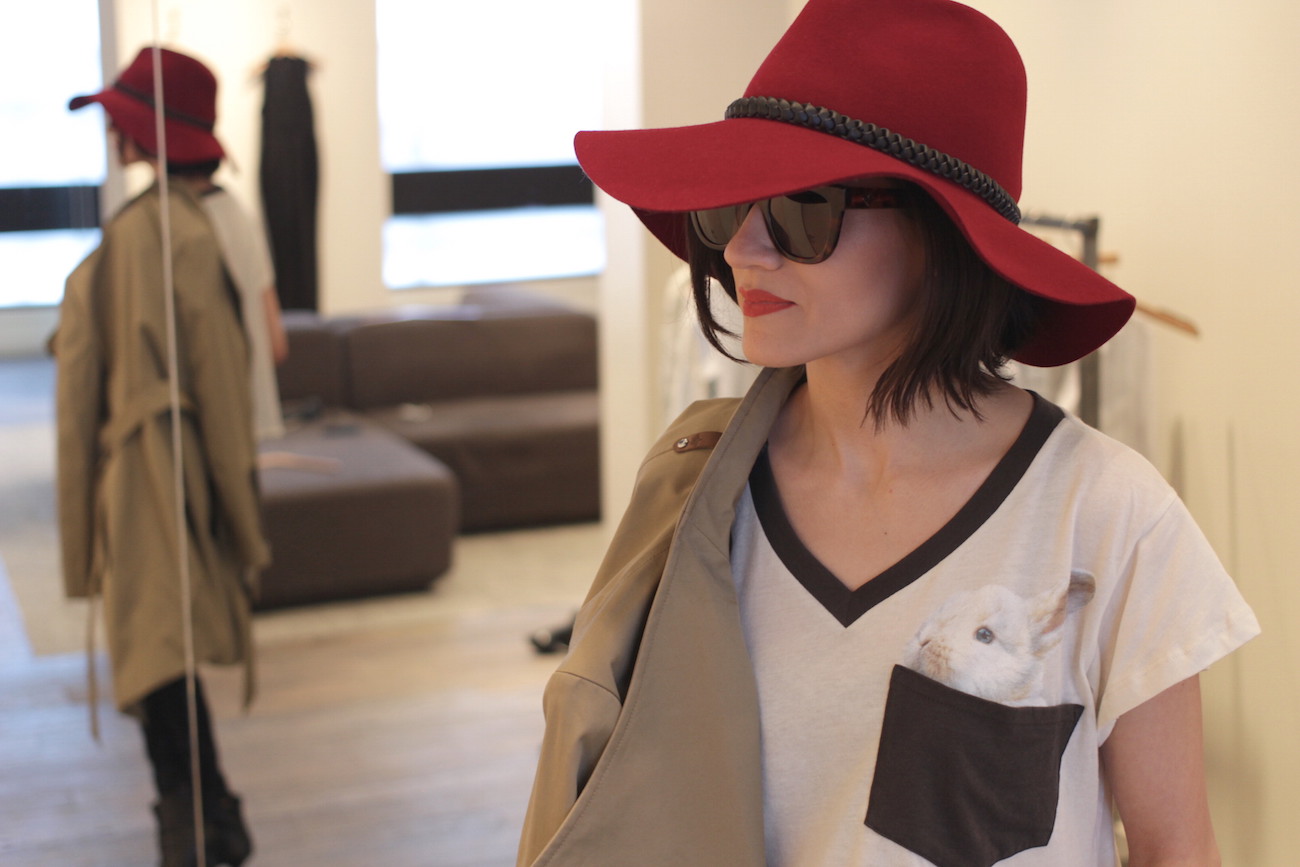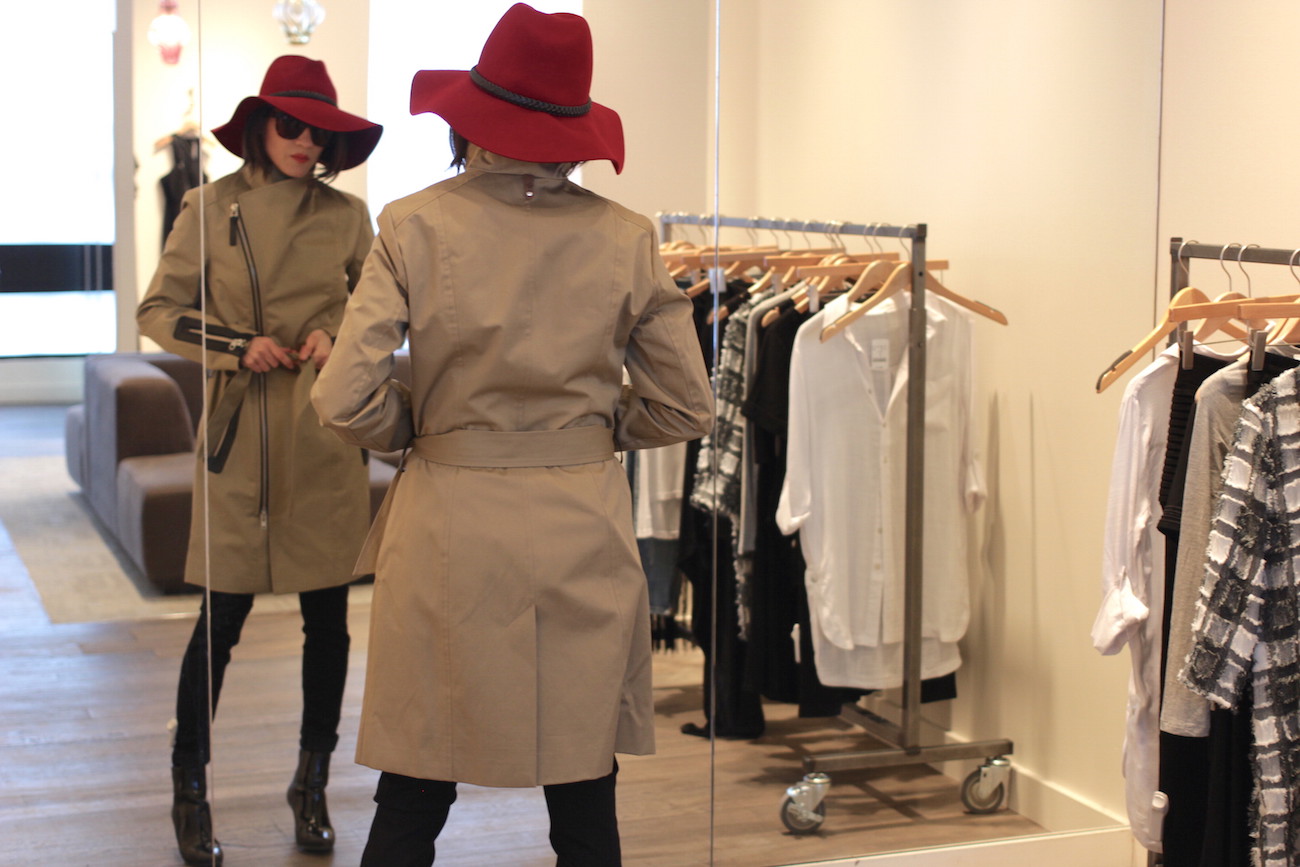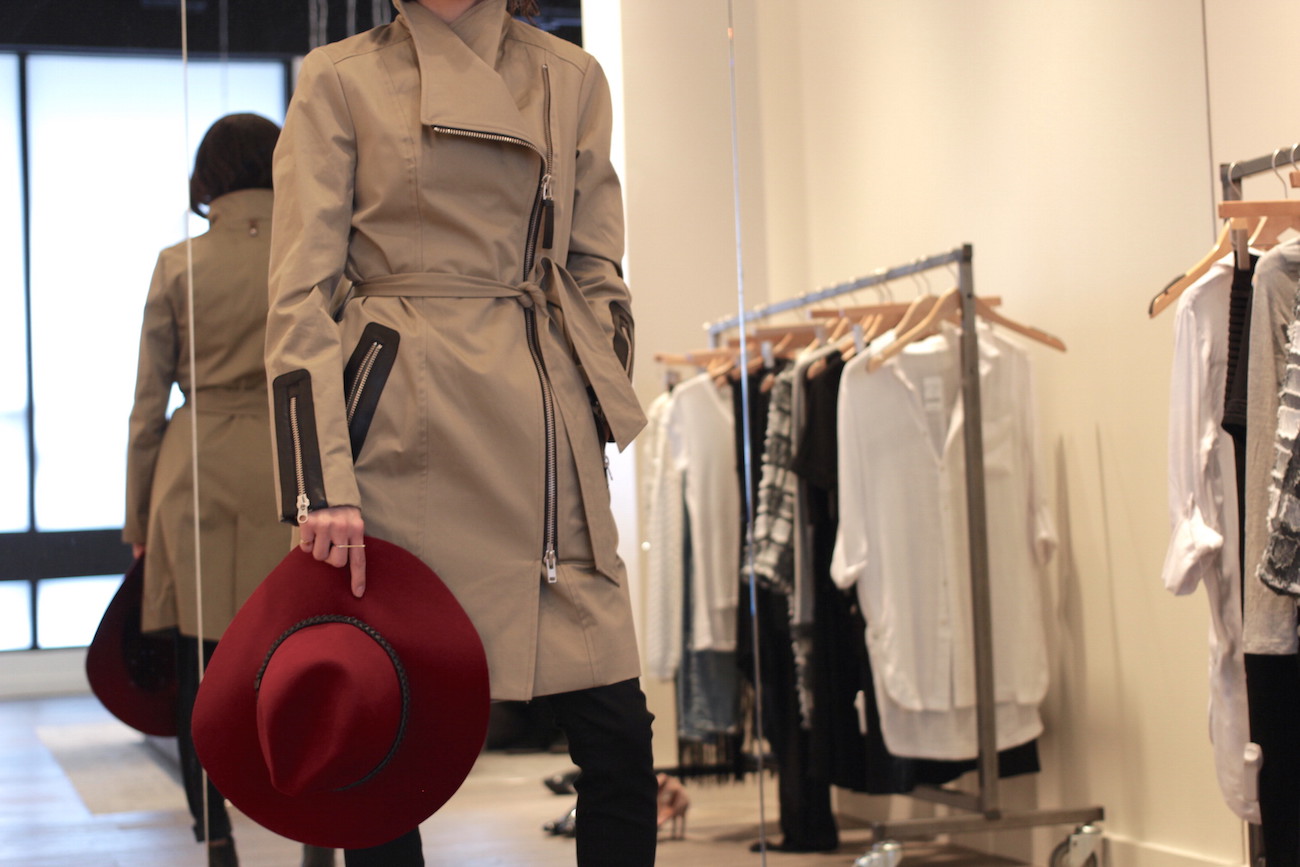 This adorable Wildfox bunny in pocket tee was my pick because It's too damn cute to pass up! I'm feeling spring-ready here even though the temperature outside was more like -20 but oh well. I'm wearing the same style in Wonderland sunglasses but in brown to go with the Mackage trench.
MENDOCINO: Mackage trench, $390. Wildfox tee, $90. Jbrand jeans, $235. Wonderland sunglasses, $210. Mendocino cranberry coloured hat, $65 on sale!
MY PIECES: 3.1 Phillip Lim boots.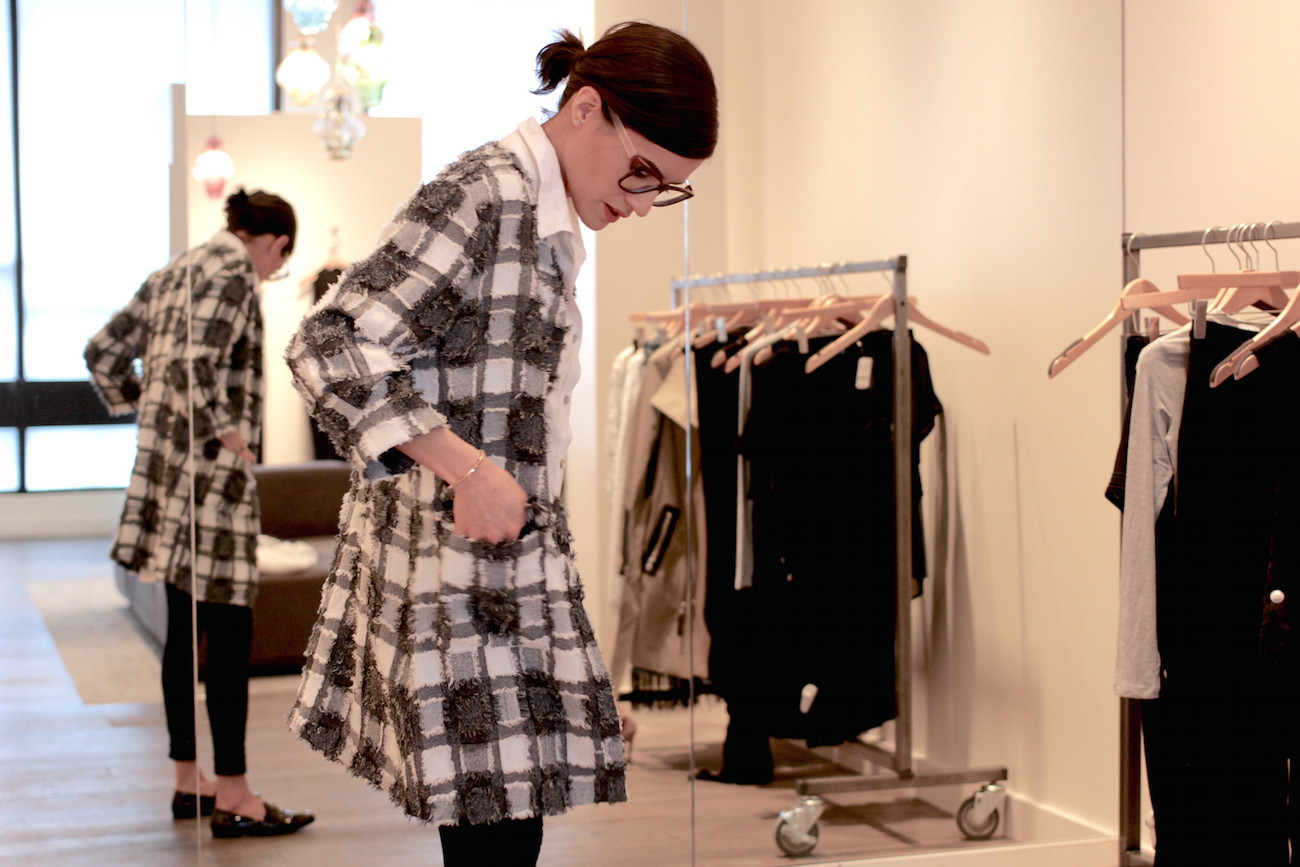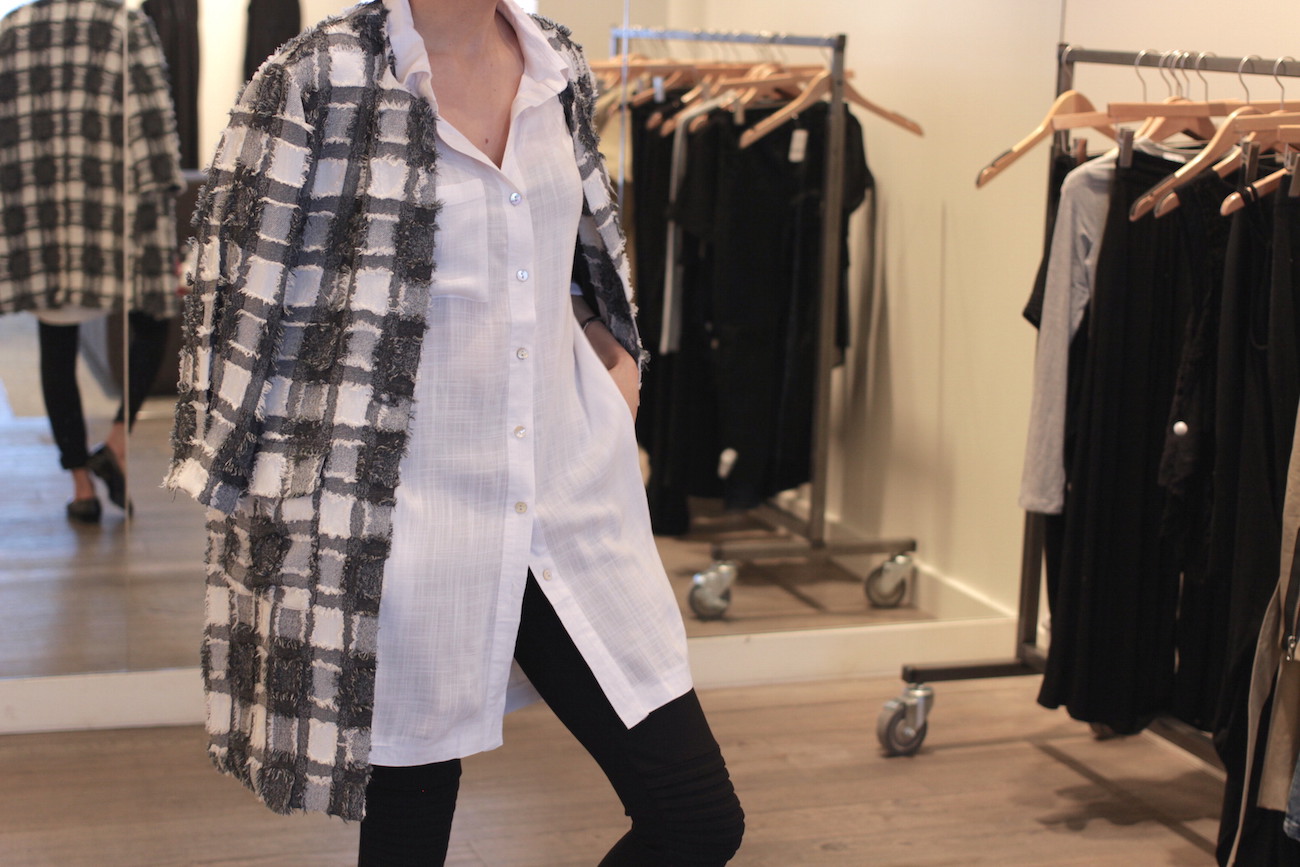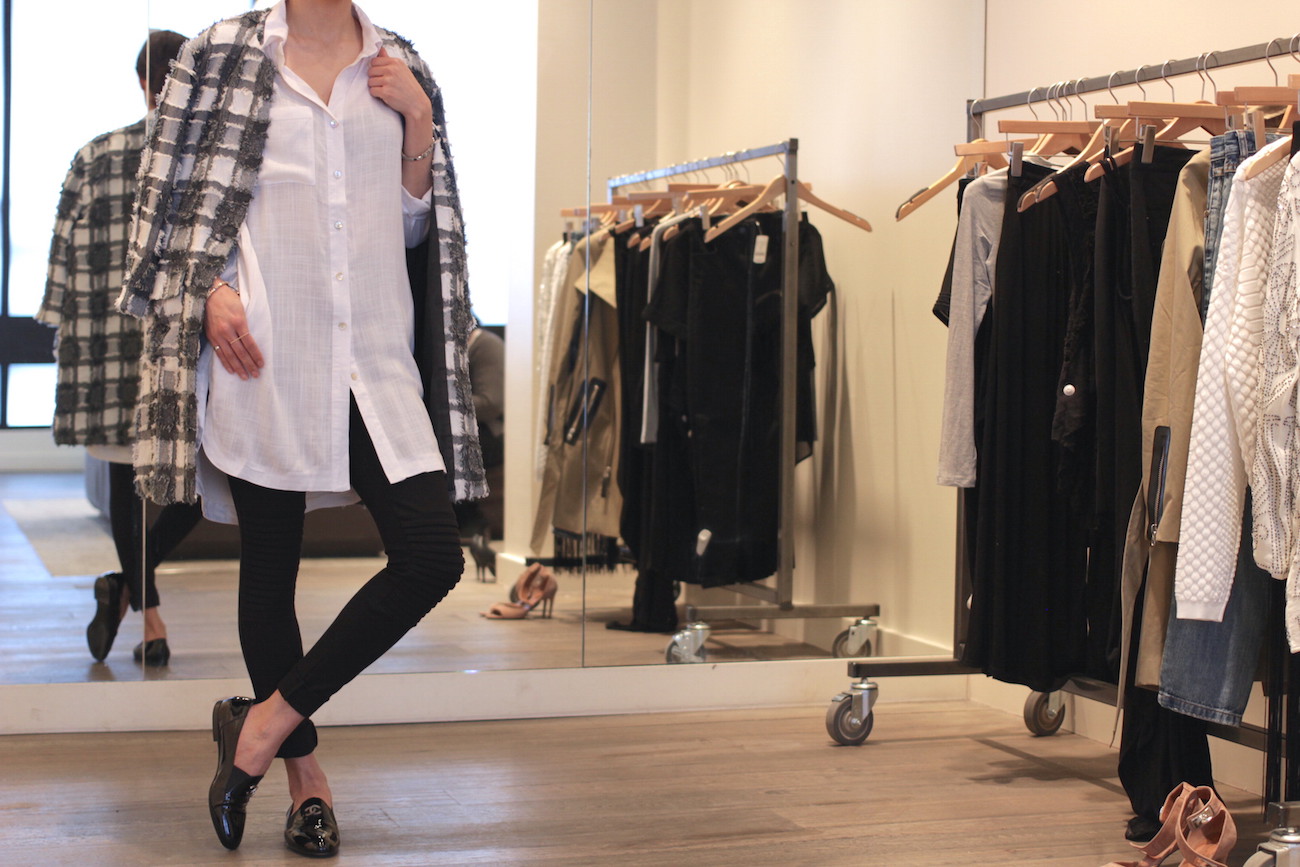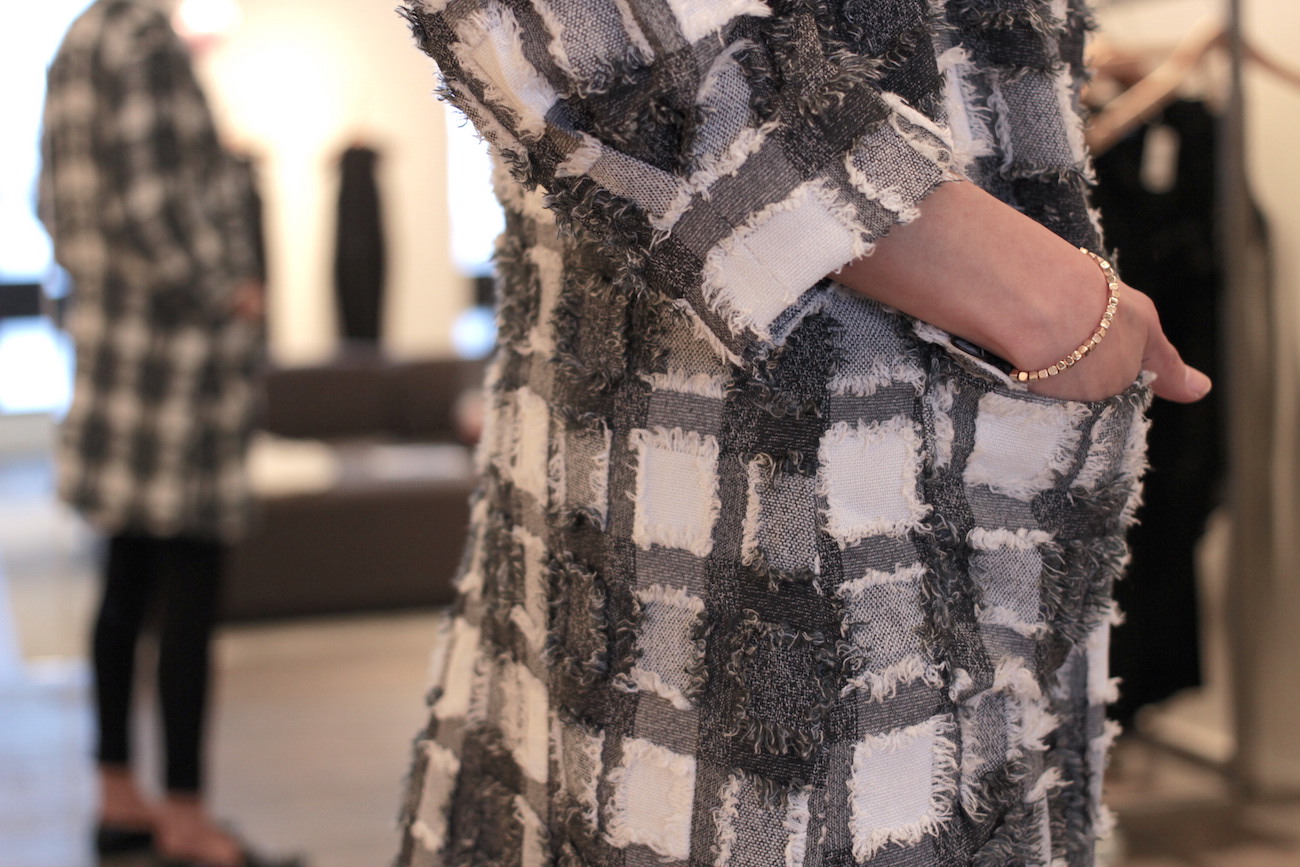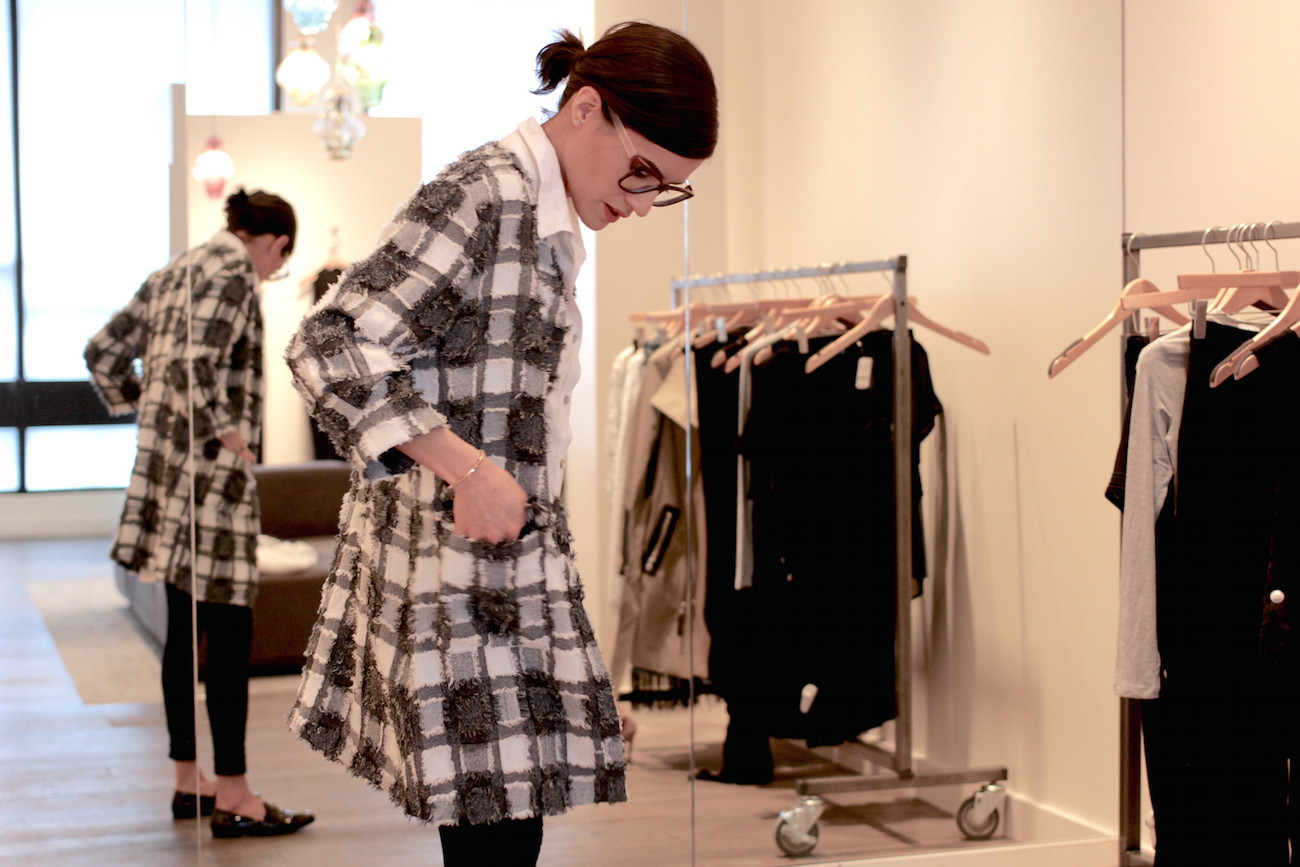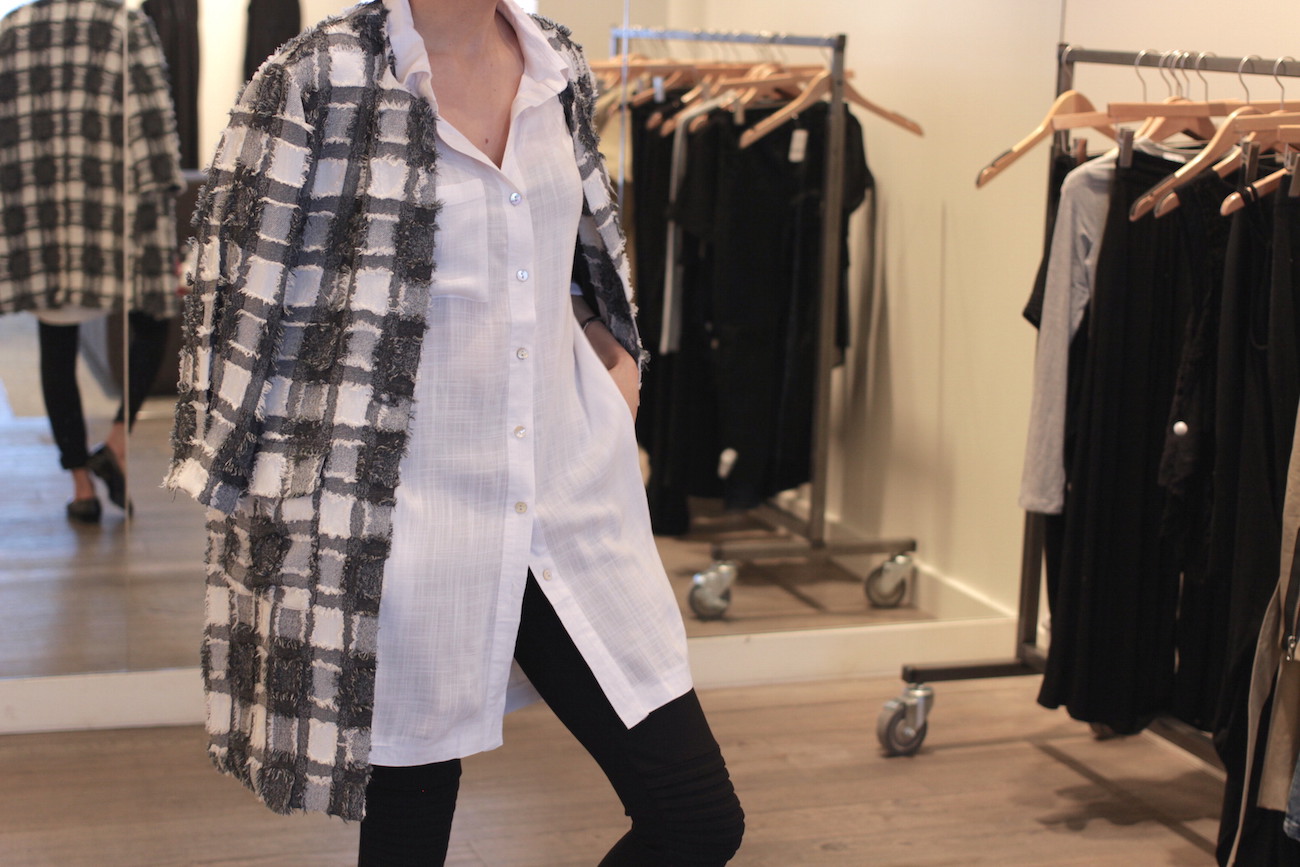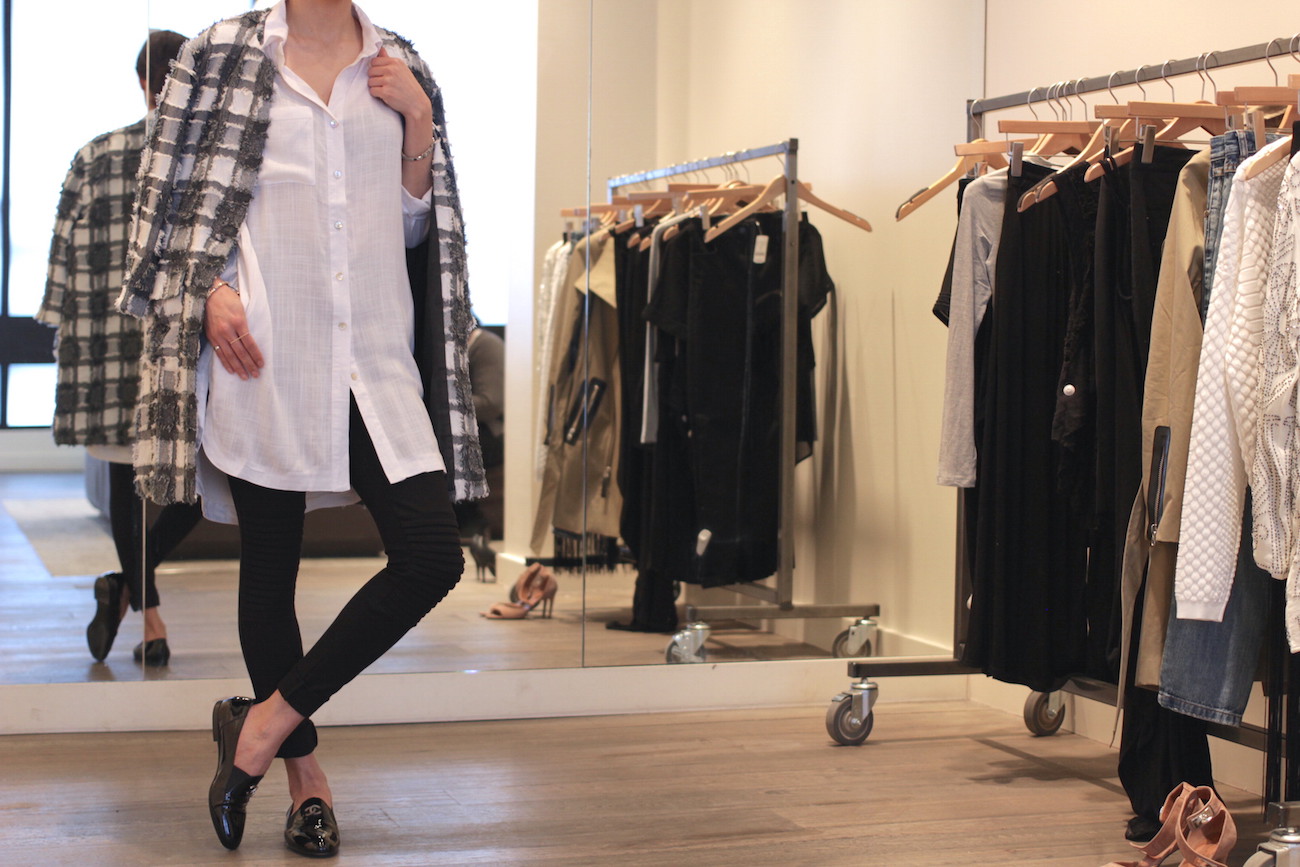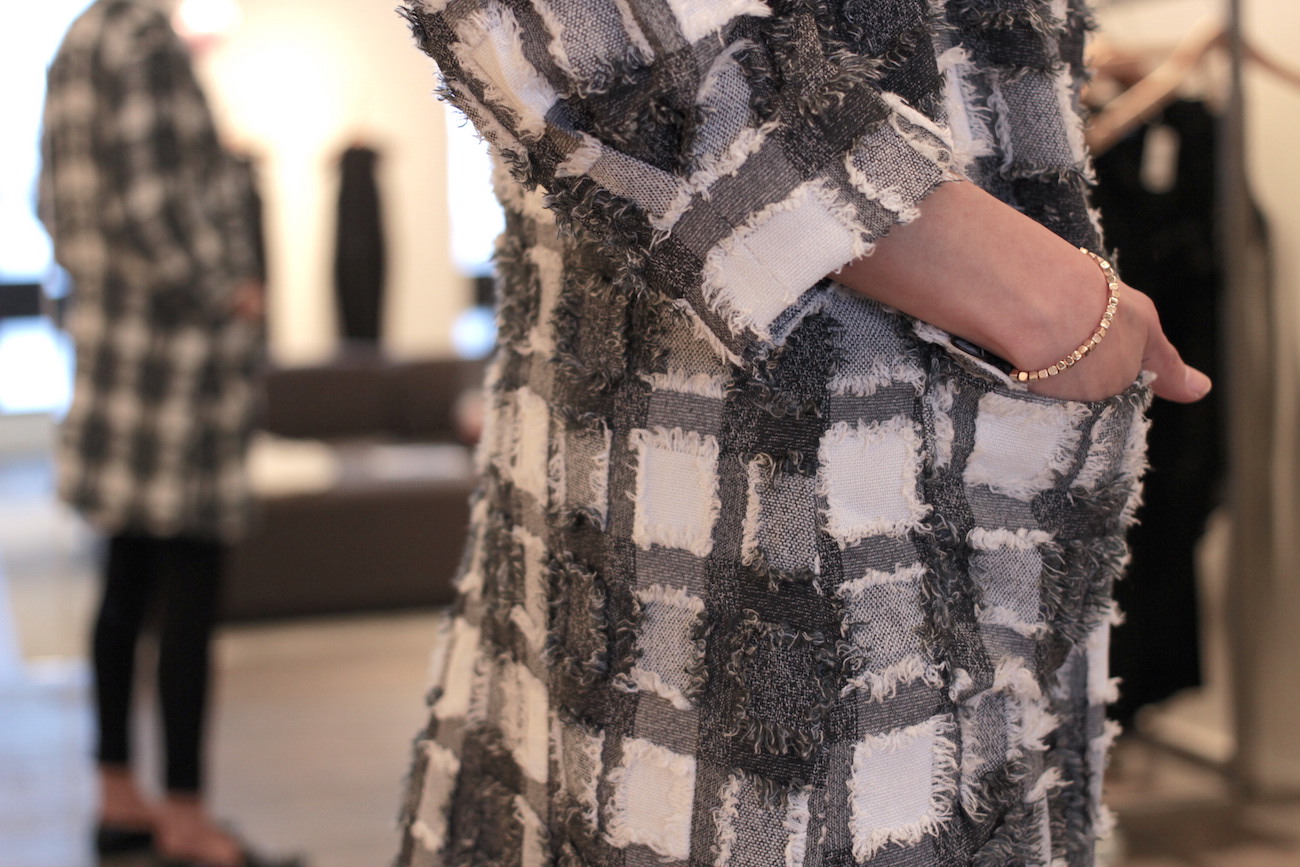 I love a good white shirt and this one is a tunic style with side pockets. The textured jacket is perfect for throwing on overtop of any outfit and can be easily dressed up or dressed down. I opted for a more casual look here that's totally office appropriate.
MENDOCINO: Beulah jacket, $110. Love + Love tunic, $88. Tantrum ponte moto pant, $92.
MY PIECES: Chanel glasses and loafers.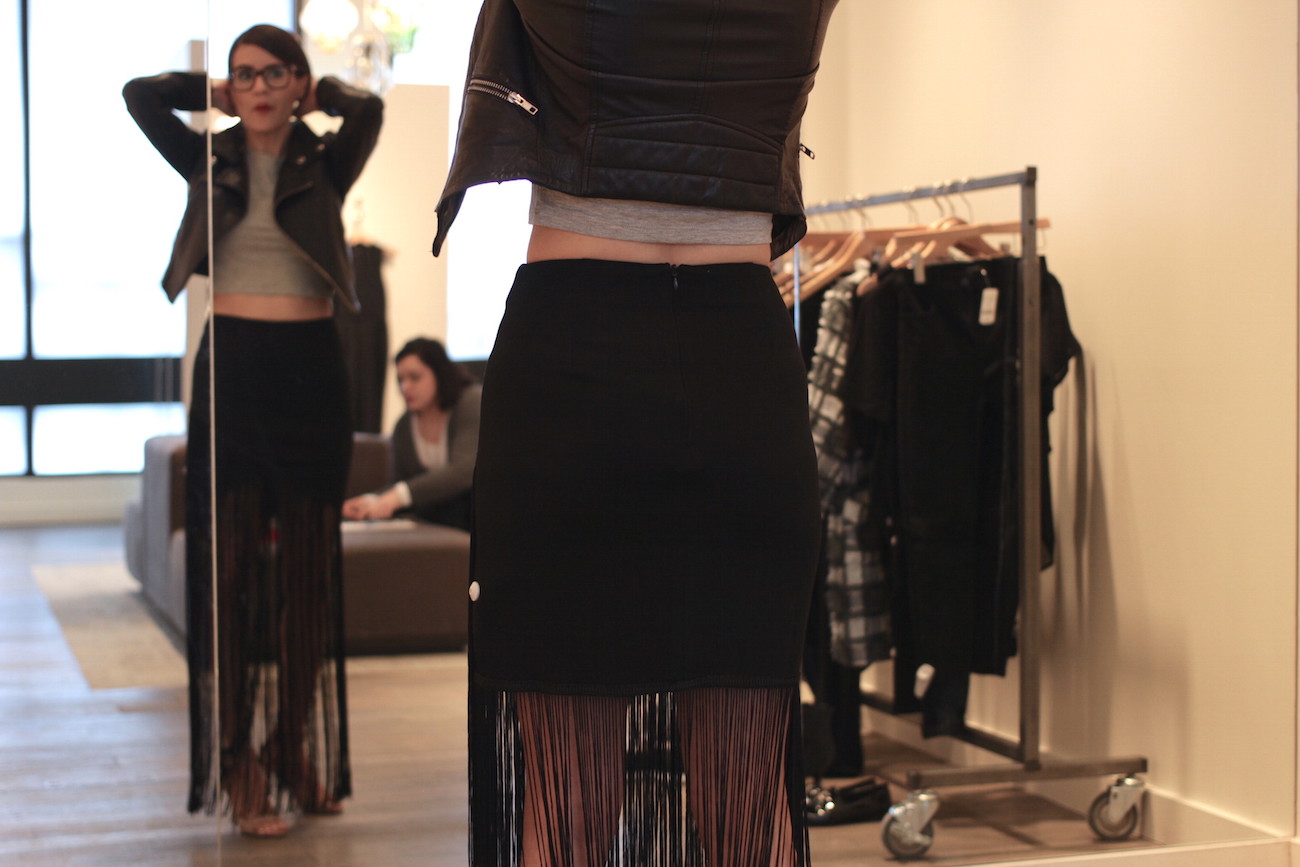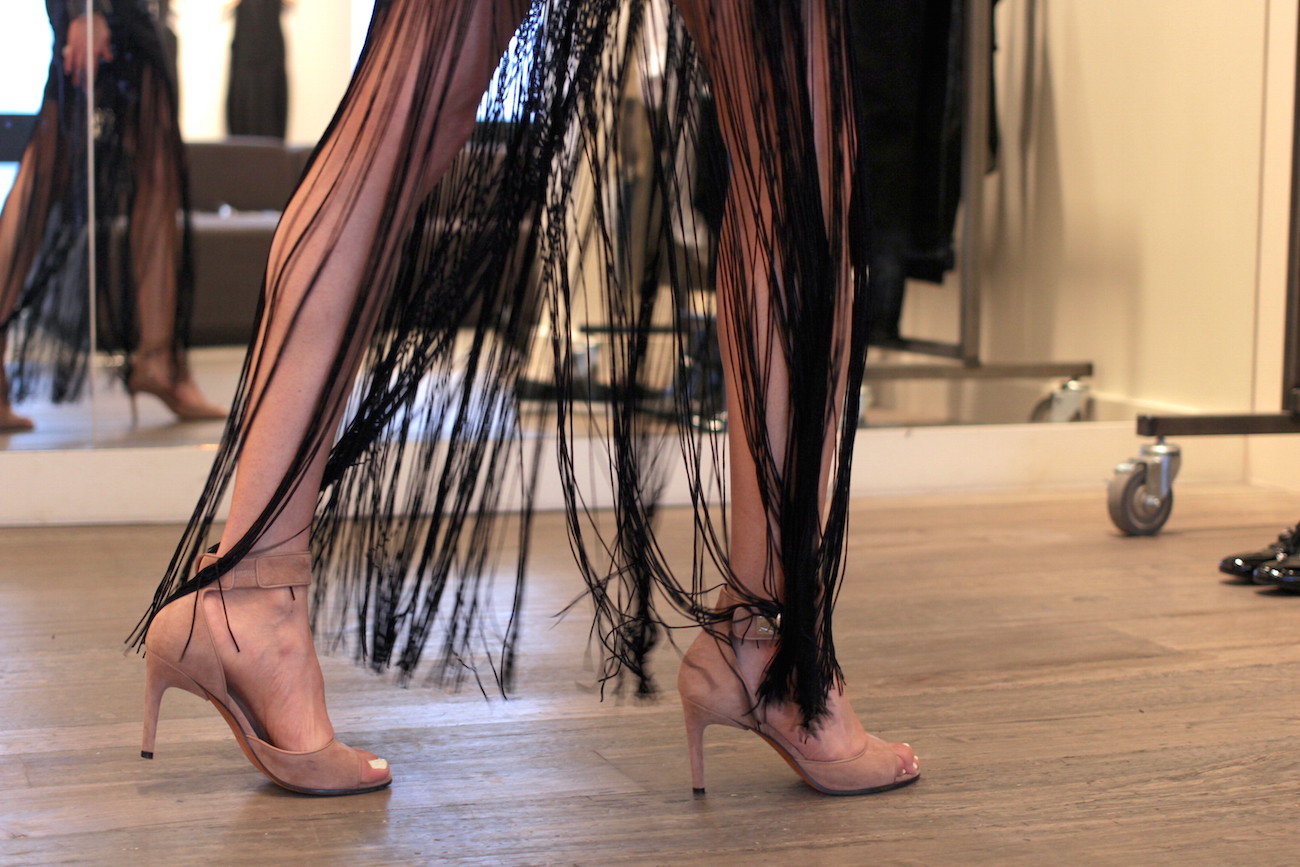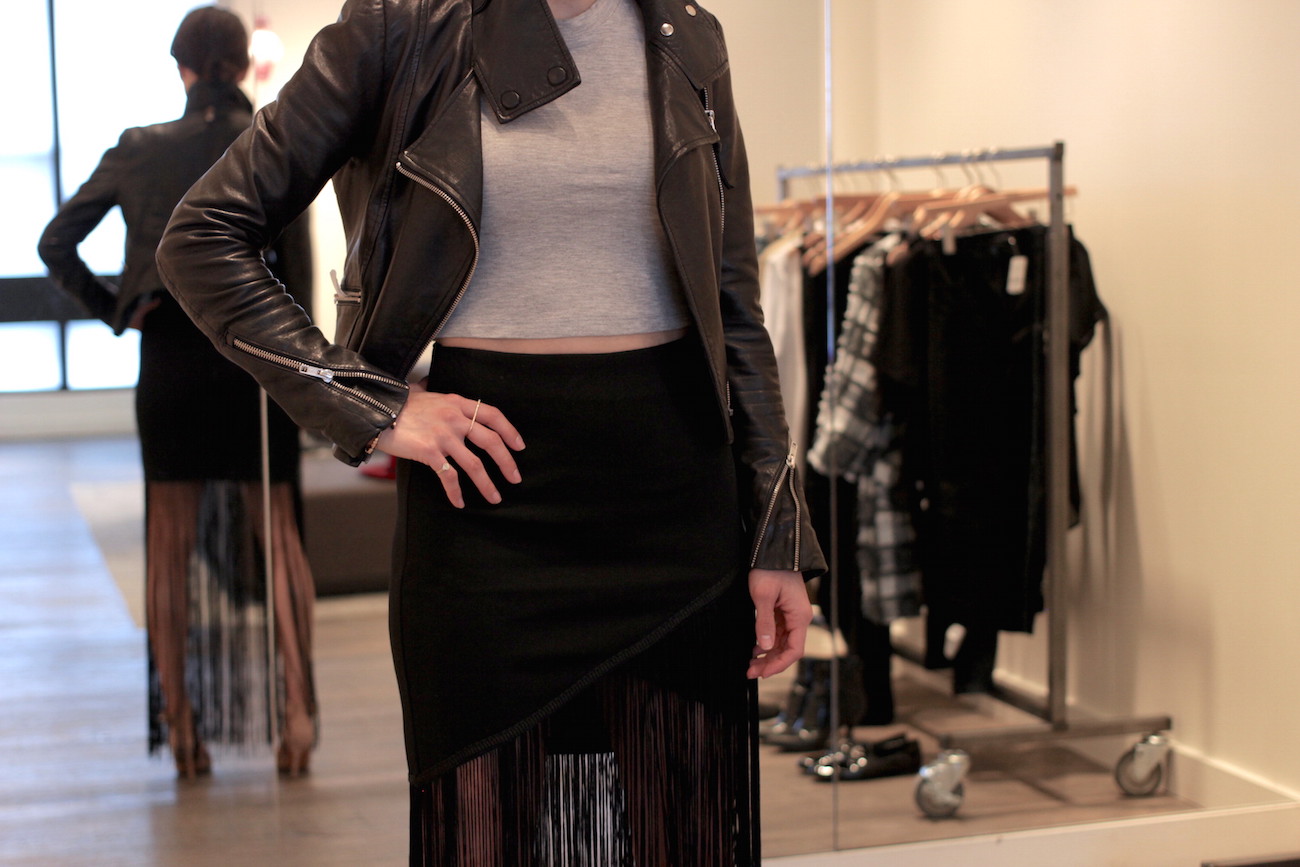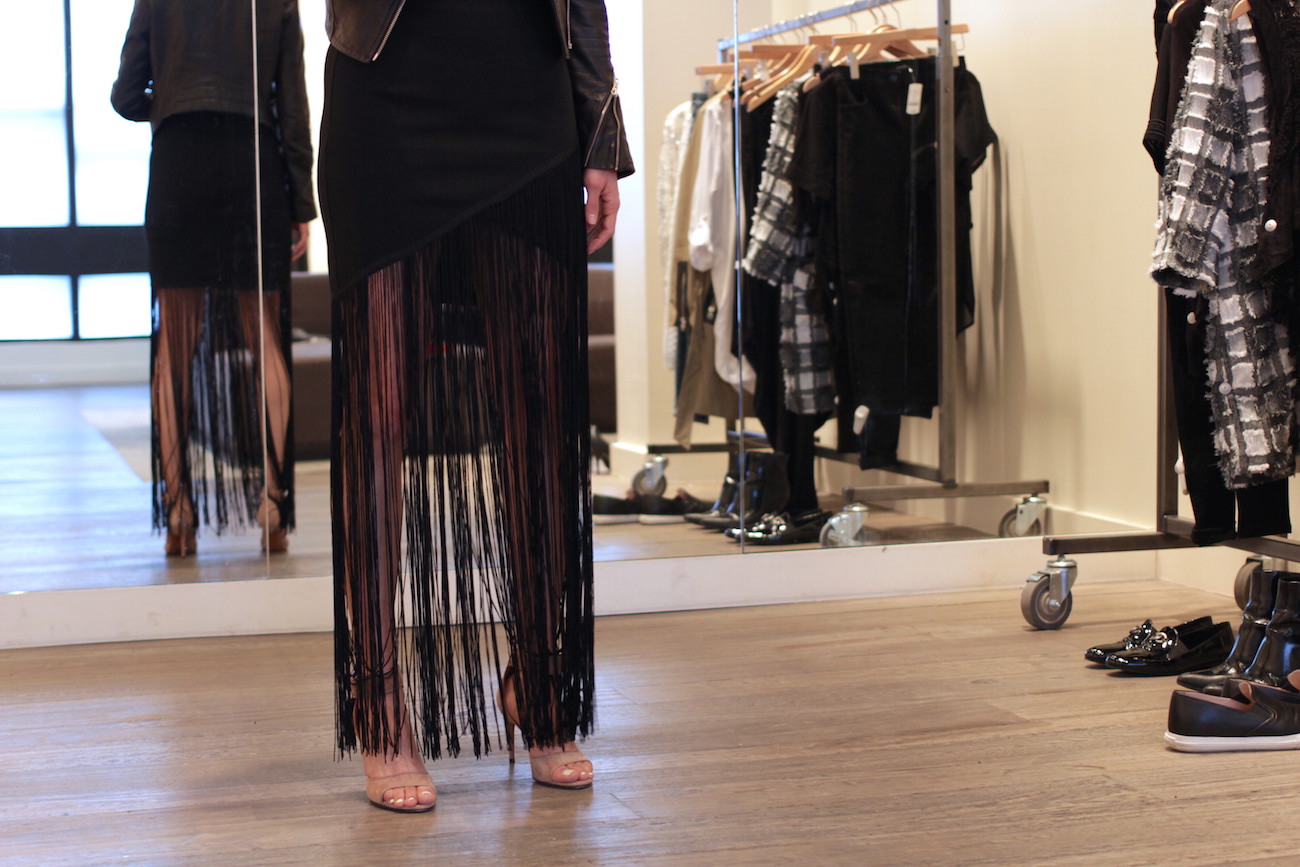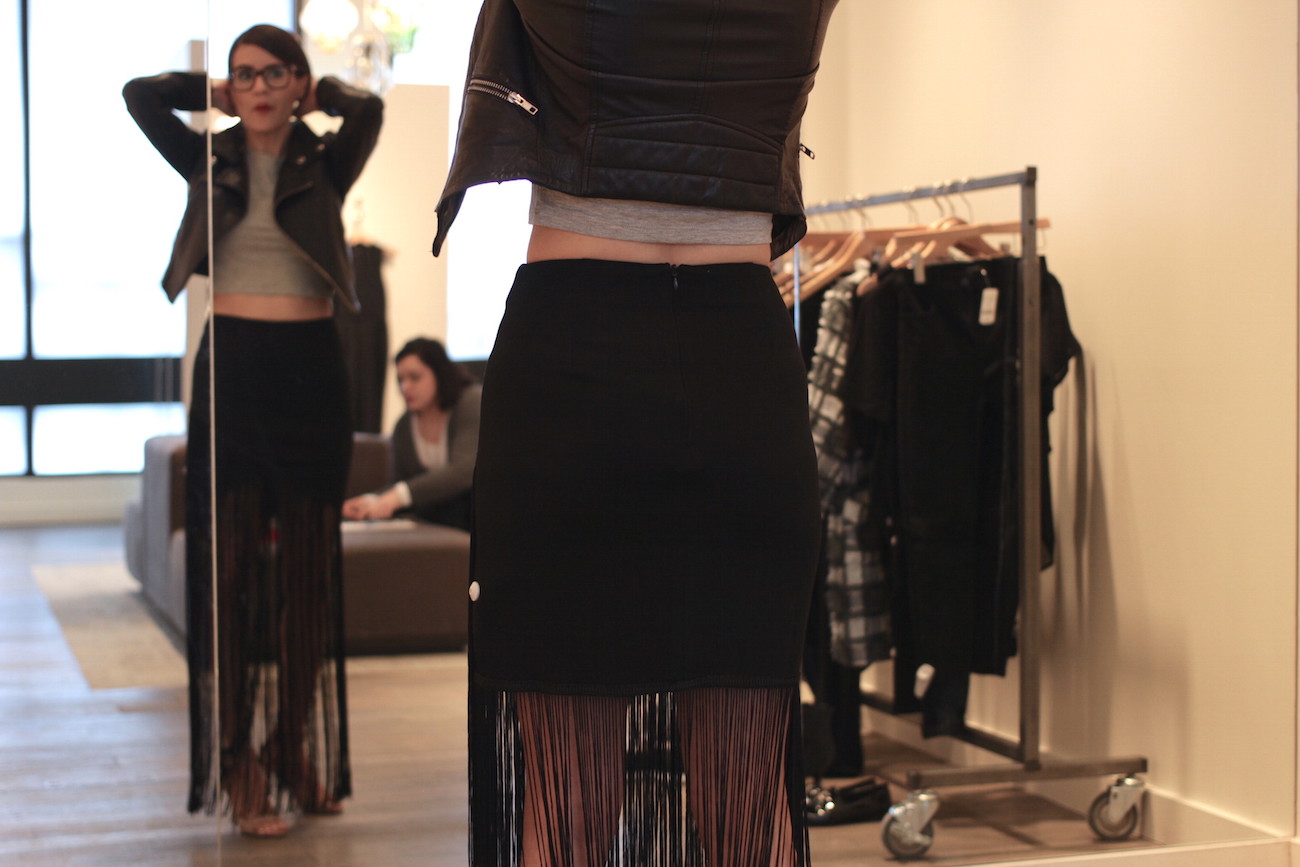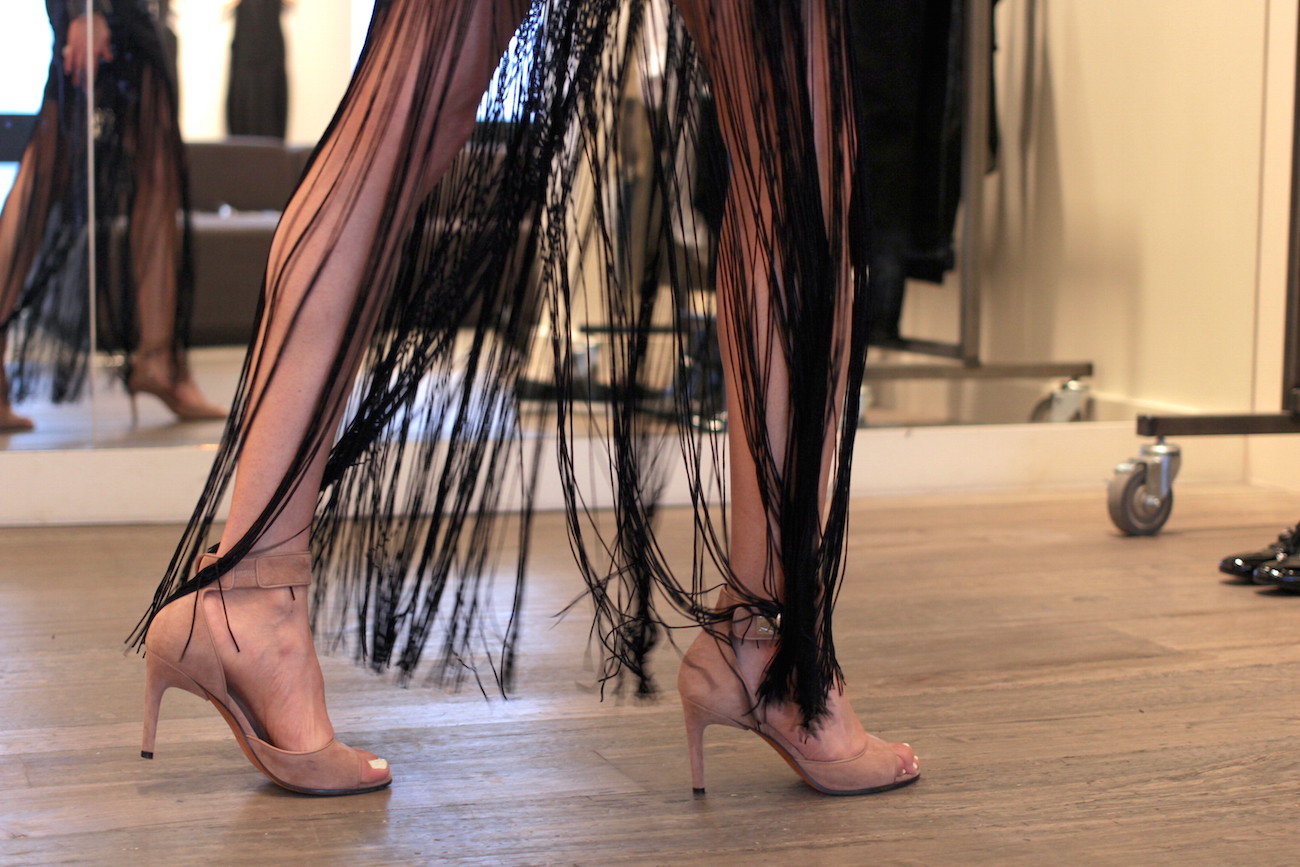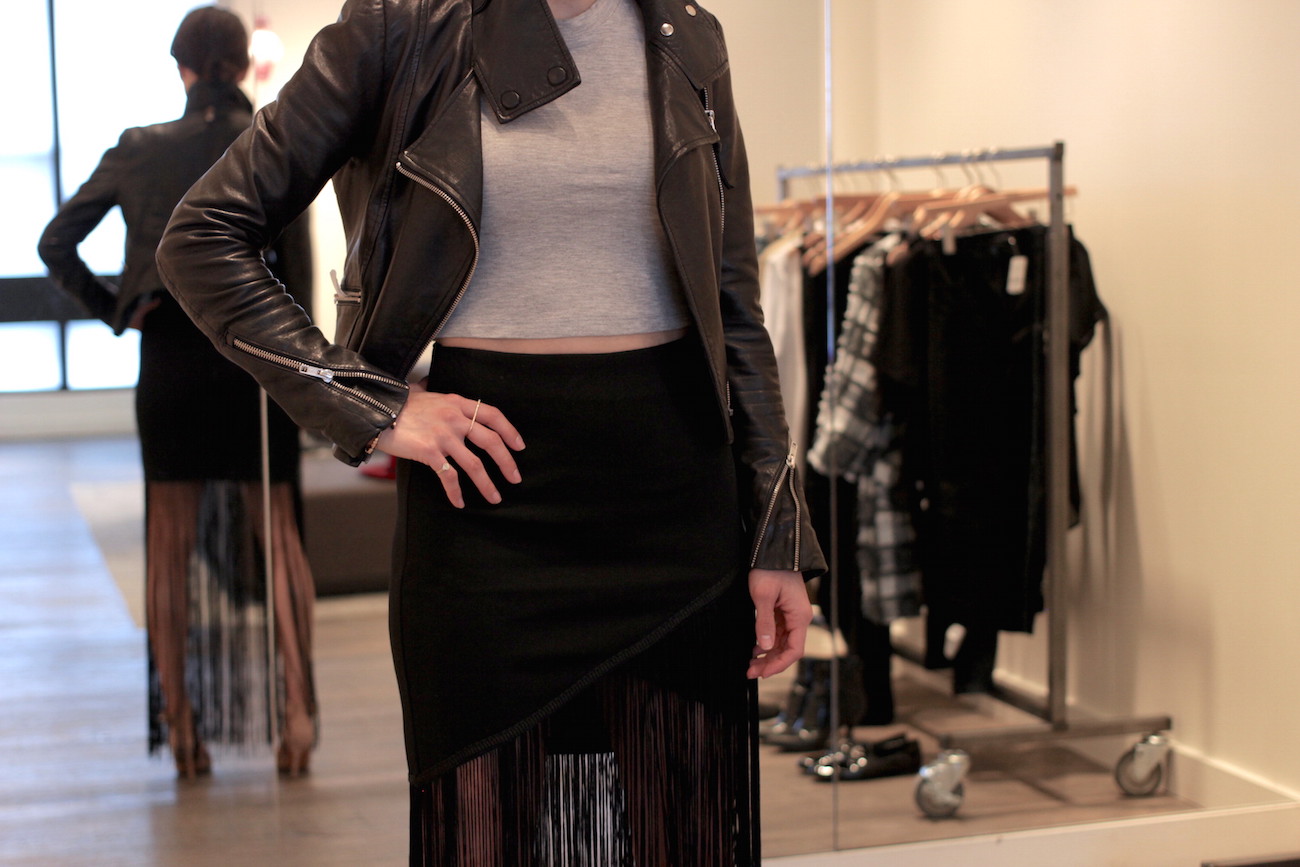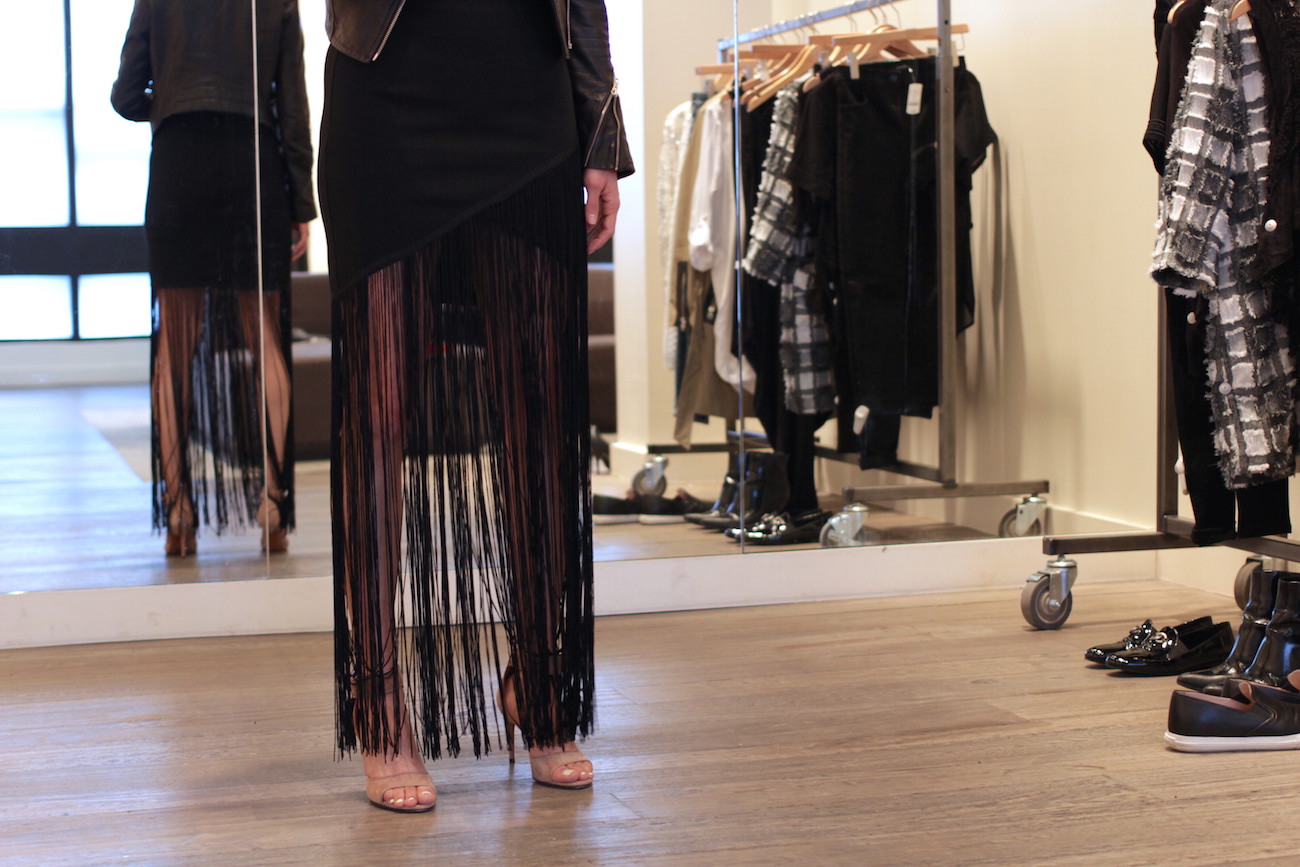 I keep saying this is the year of trying new things and man is this ever new to me! A crop top (gasp!) and a fringe skirt! You know what, I'm happy I tried them on because I really like this look. It's fun and flirty and totally show stopping but at the same time, I still feel it's very much true to my personal style.
MENDOCINO: Moon Collection skirt, $98. BLQ grey crop top, $78.
MY PIECES: Givenchy heels. Mackage jacket.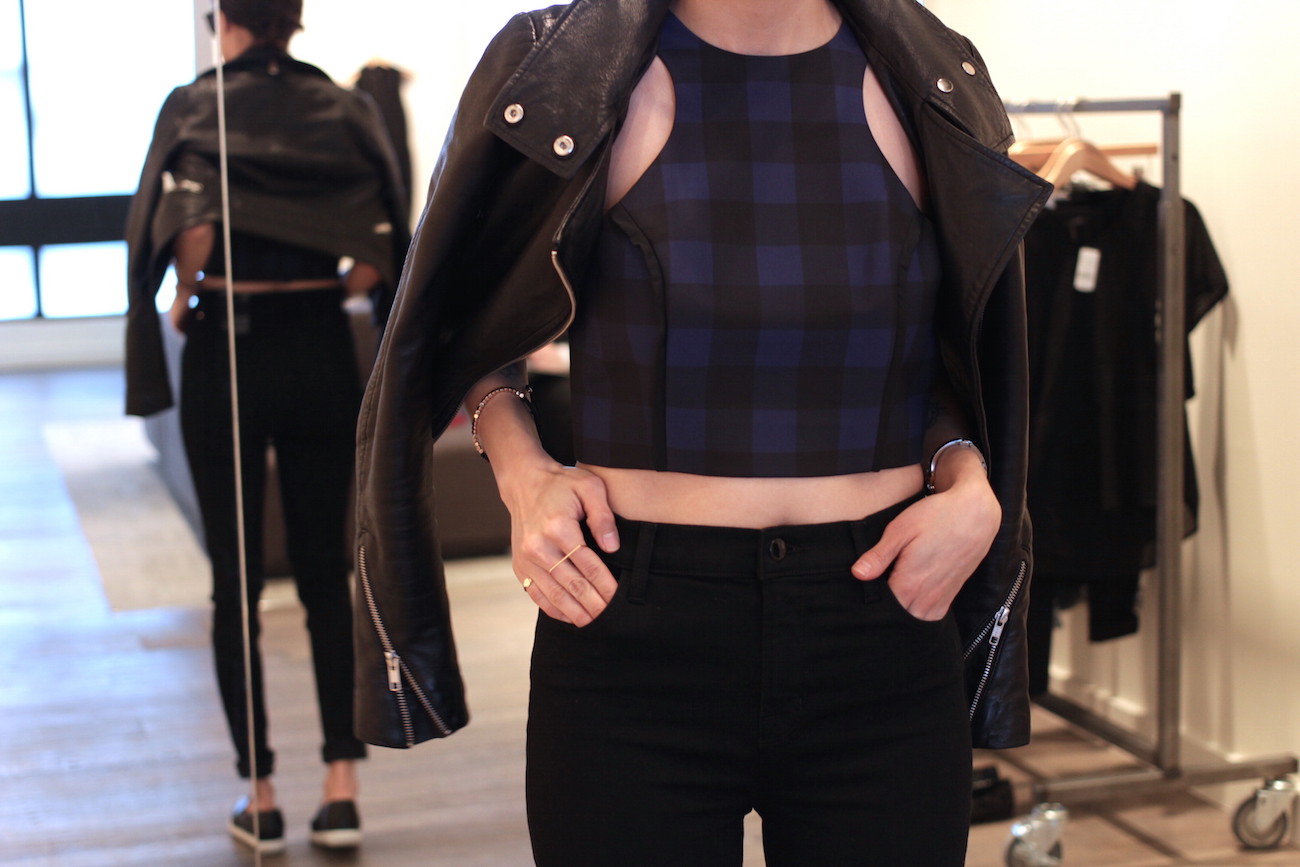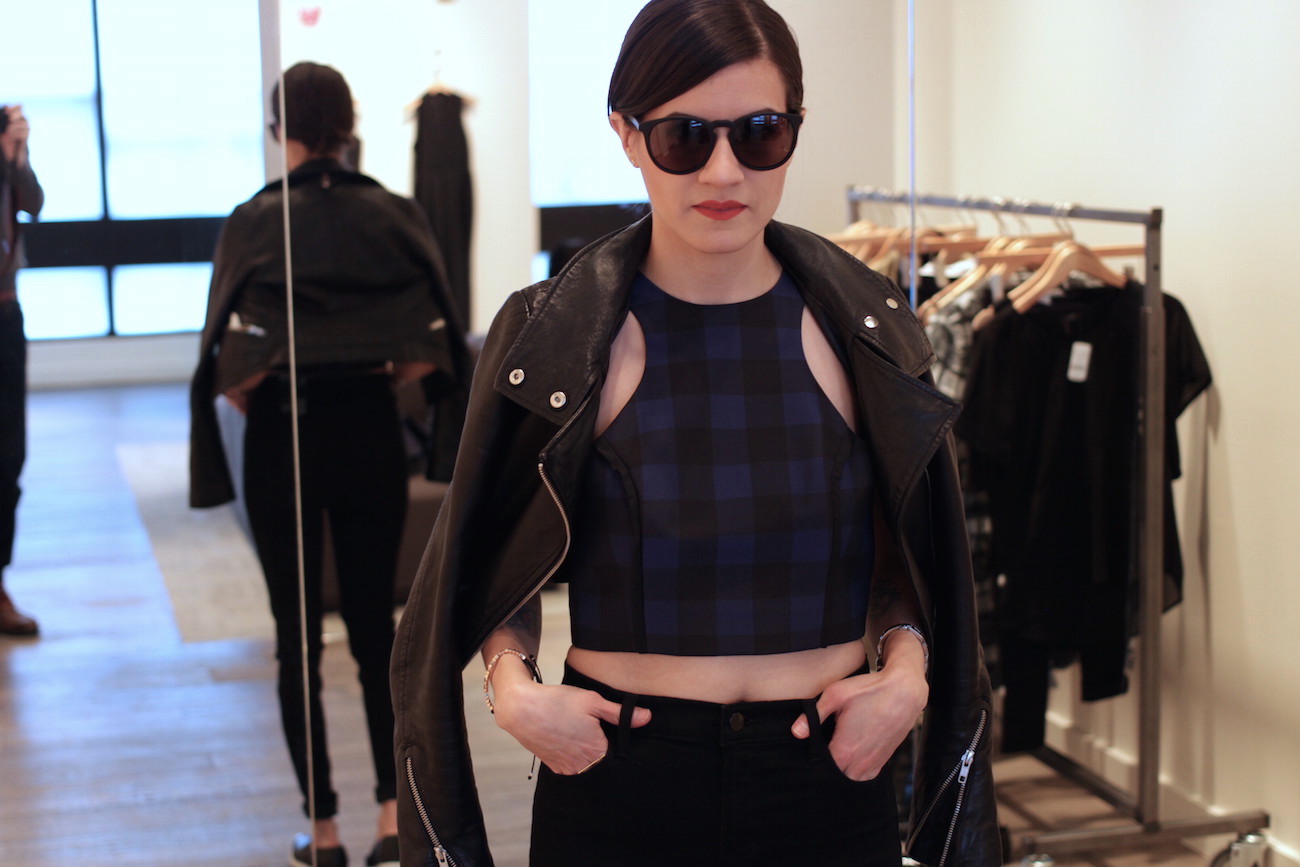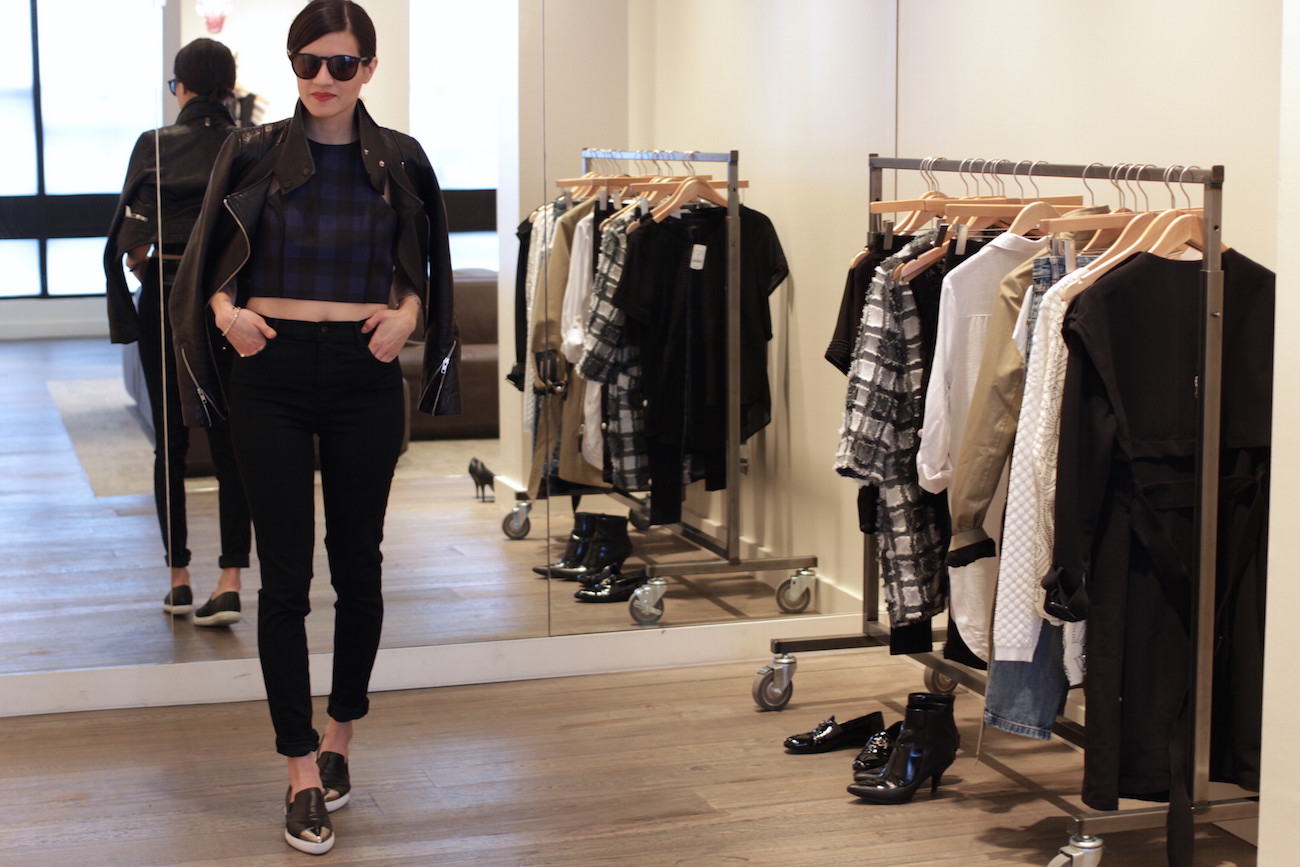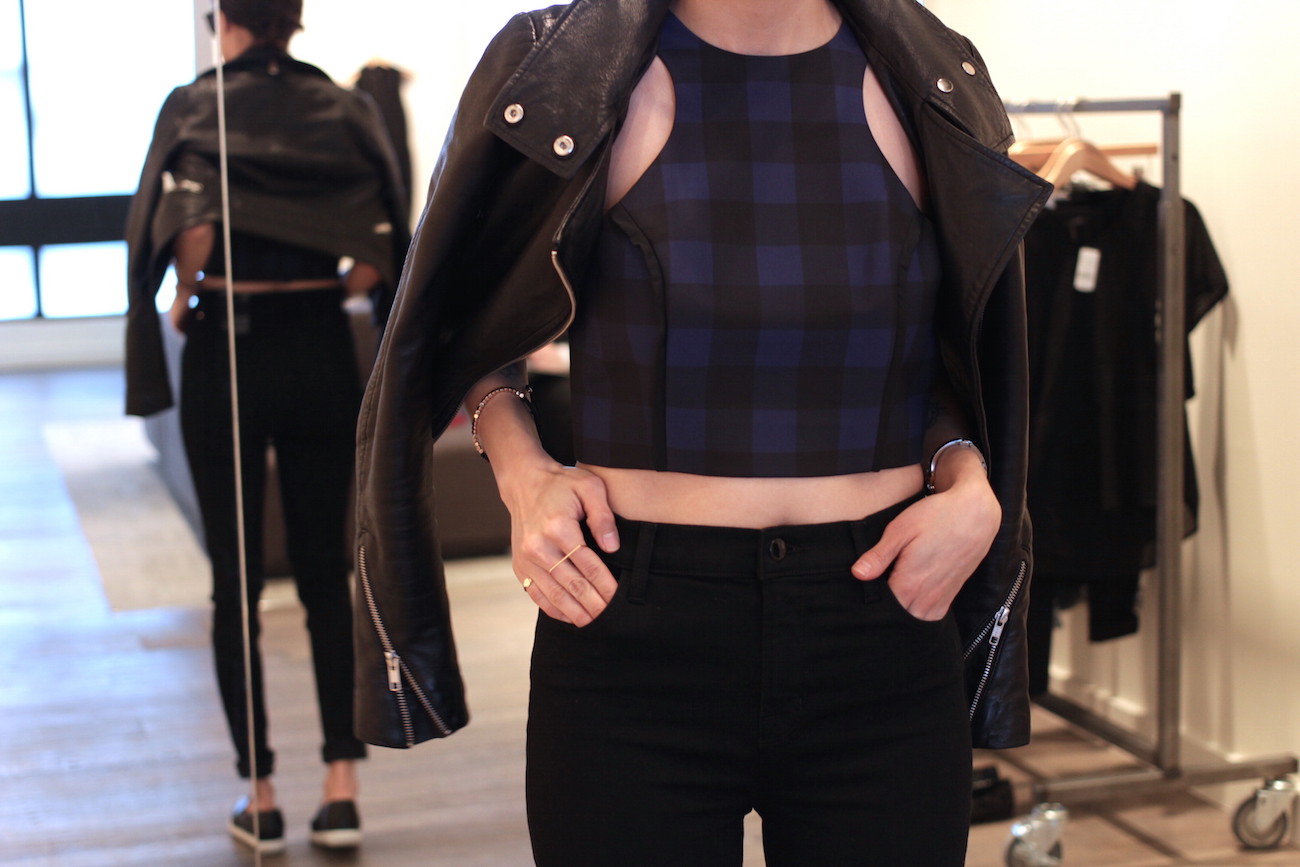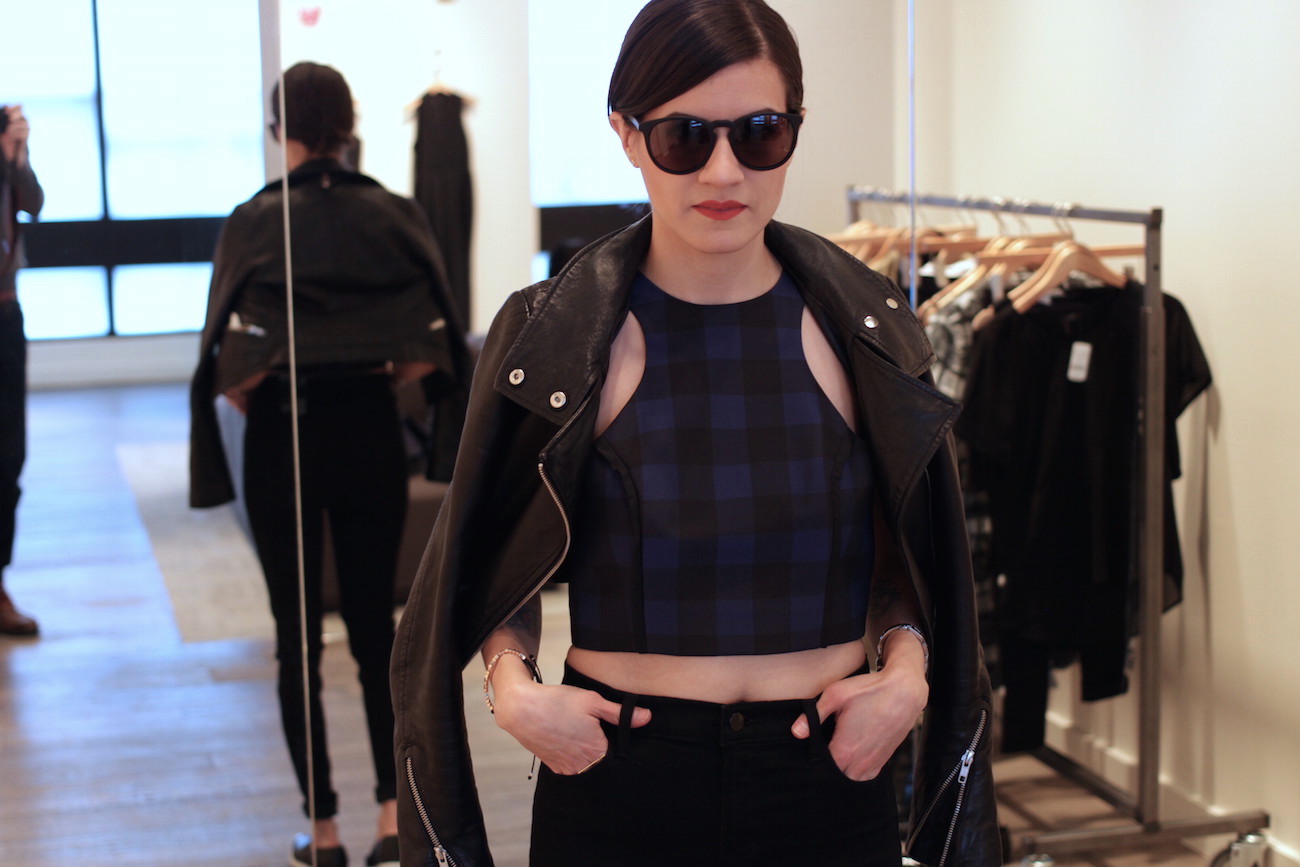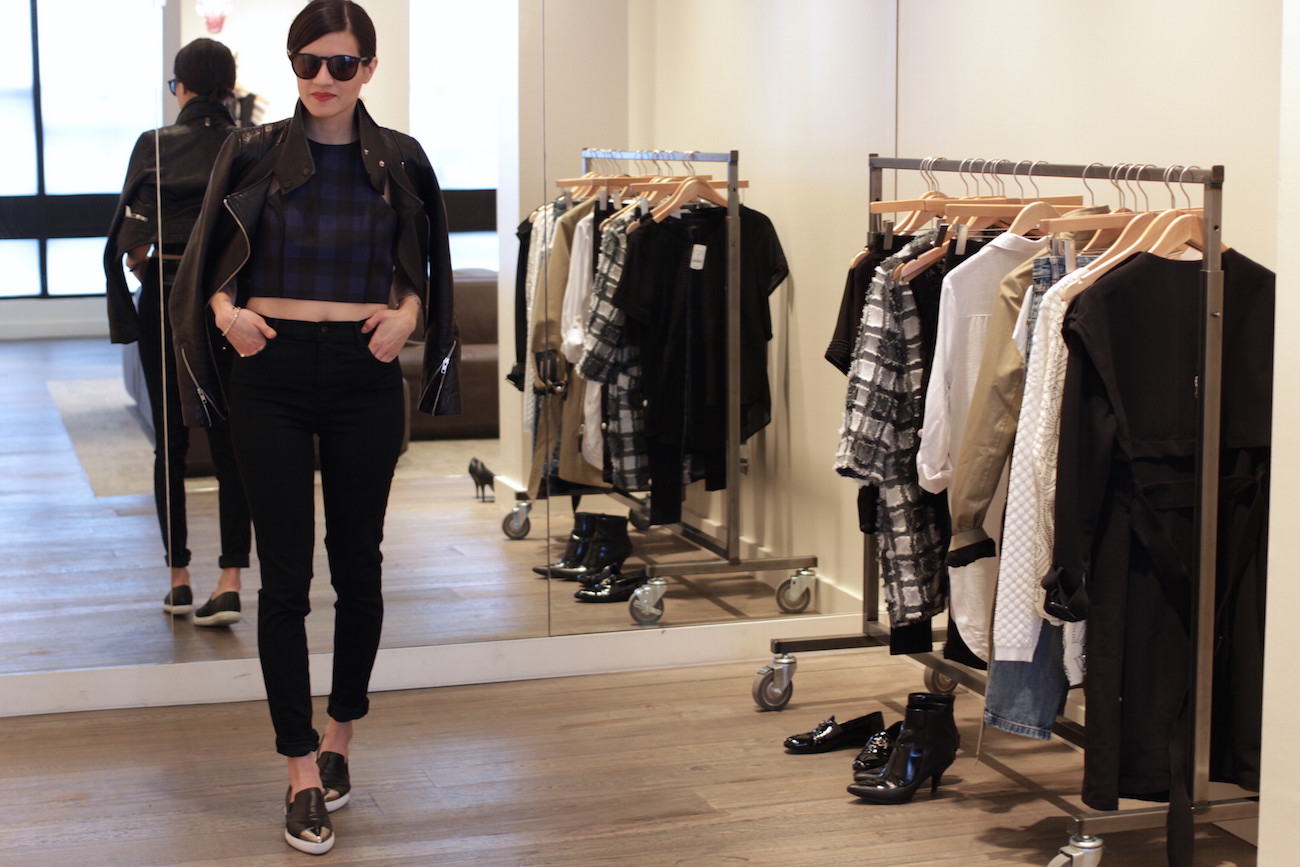 This beautiful crop top has a matching pencil skirt, which I tried on and didn't like. Geoff (my hubby and photographer) said to me "why not just wear it with a pair of jeans?", which is when I reached for these high waisted Maria Jbrand's. I love this look so much! I never thought myself to be a crop-top-kinda-girl but you know what, I'm really digging it! #neversaynever
MENDOCINO: Finders Keepers crop top, $150 (Australian brand). Jbrand jeans, $235. Wonderland sunglasses (I NEED THEM ALL!), $180.
MY PIECES: Miu Miu slip ons. Mackage jacket.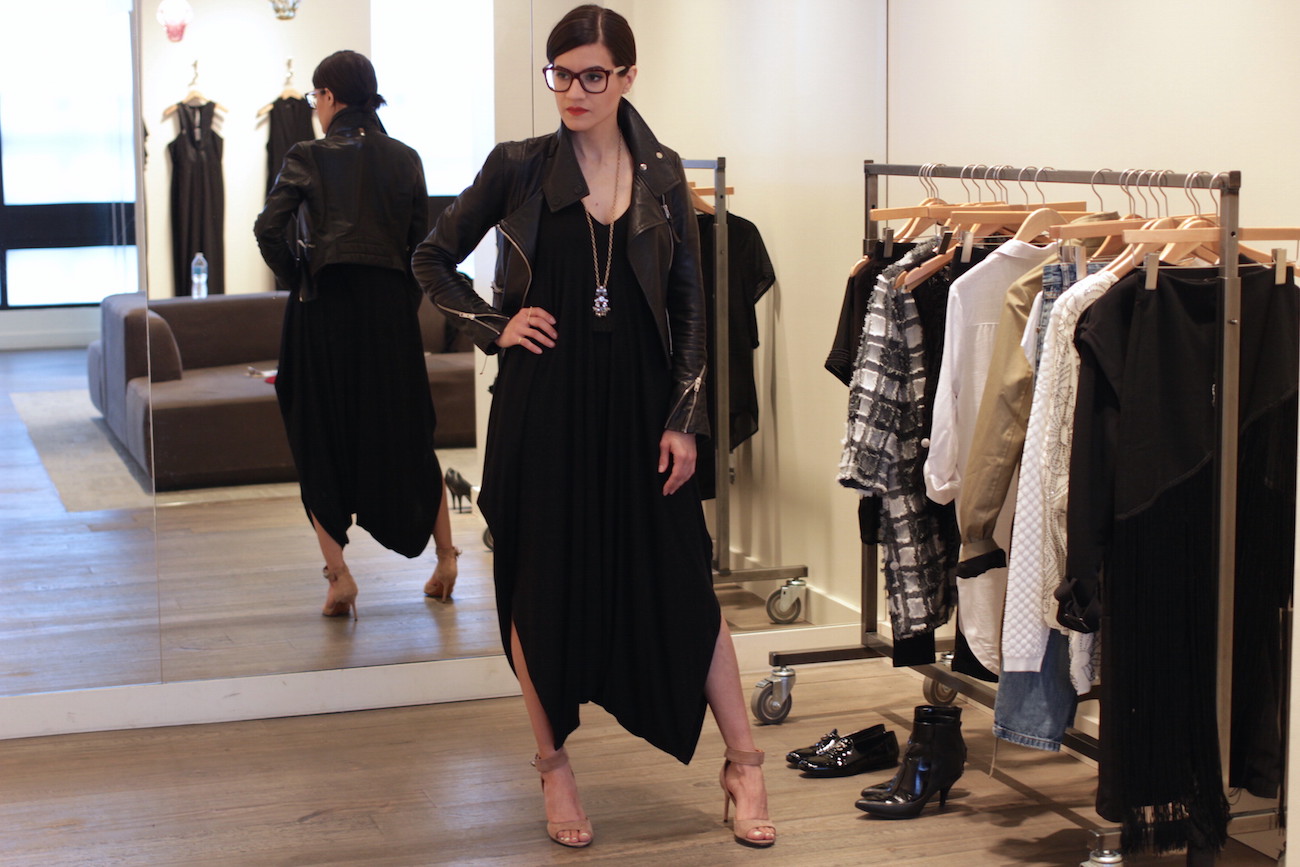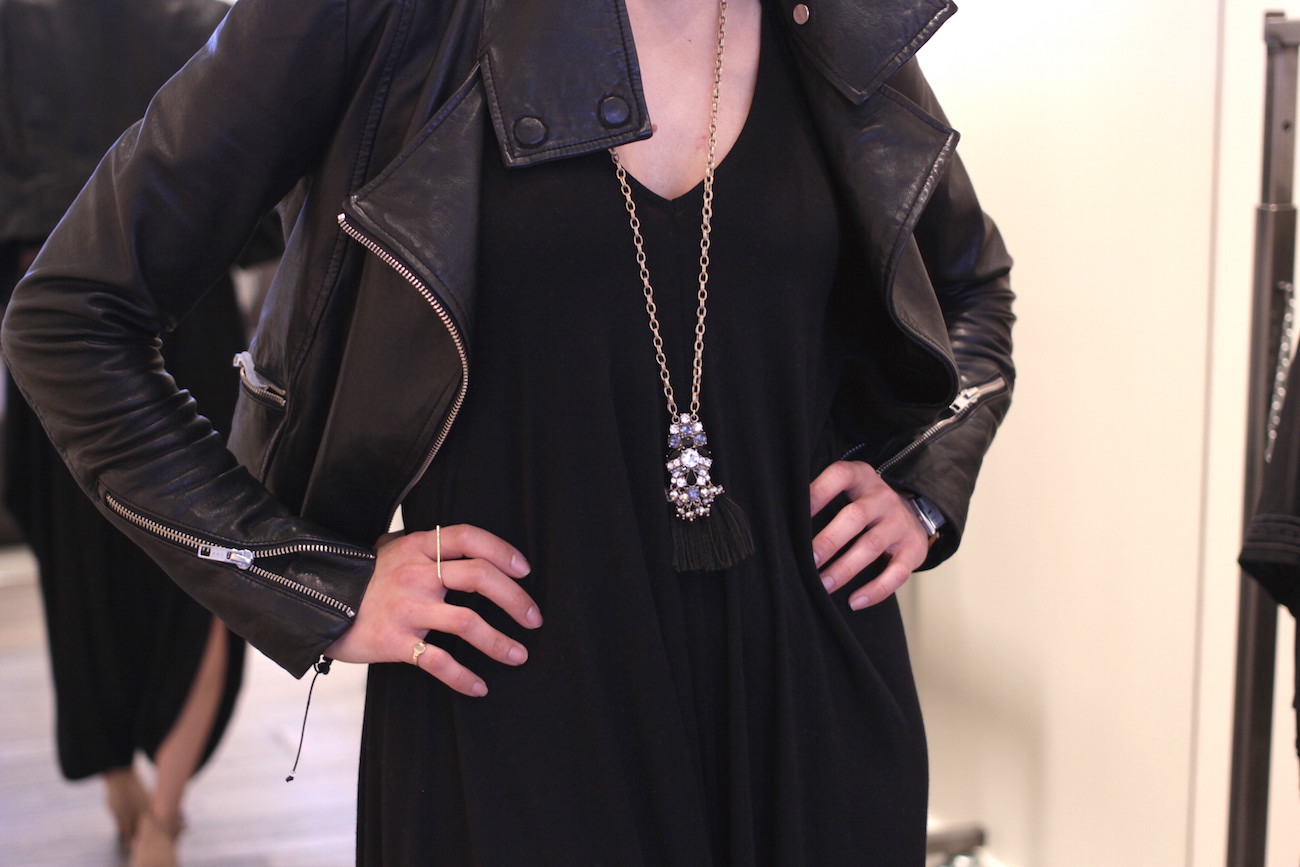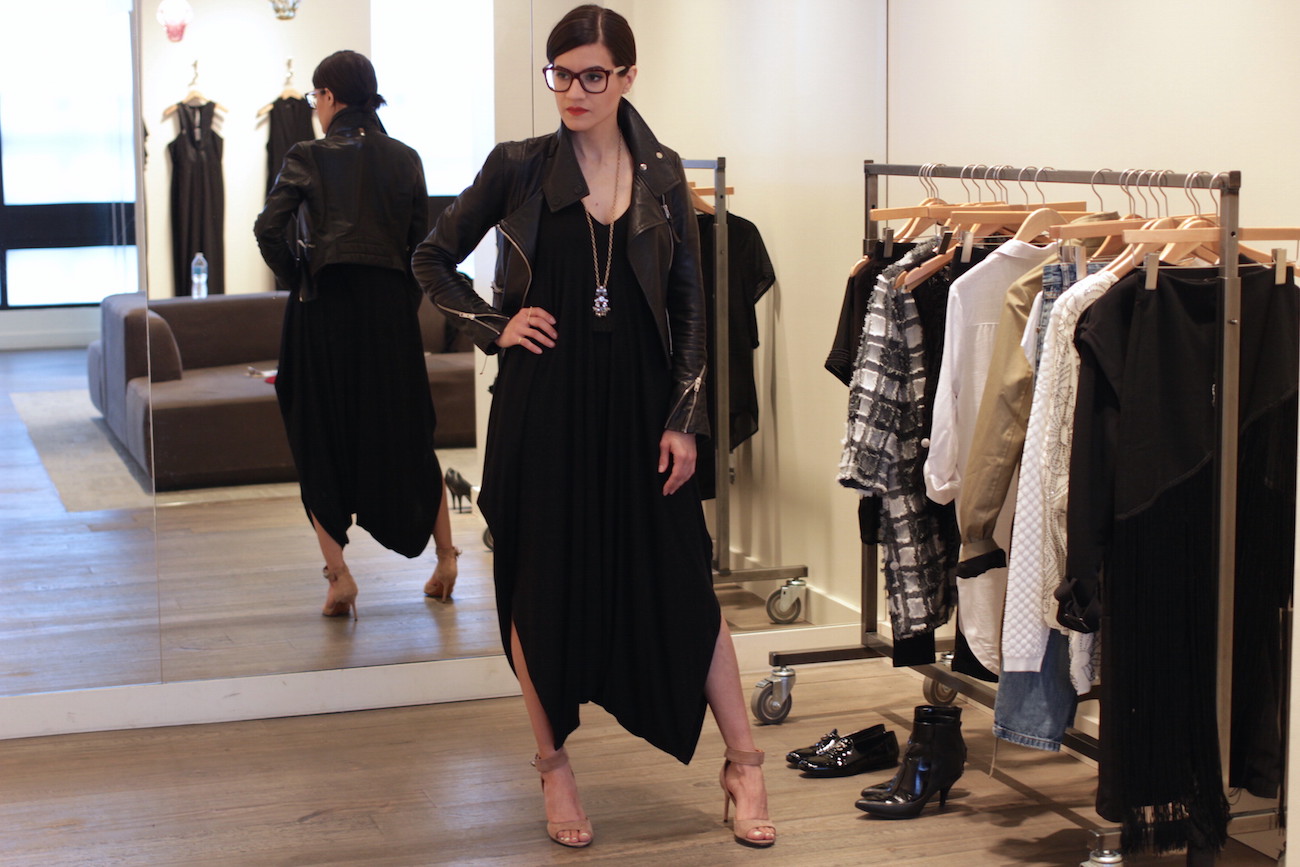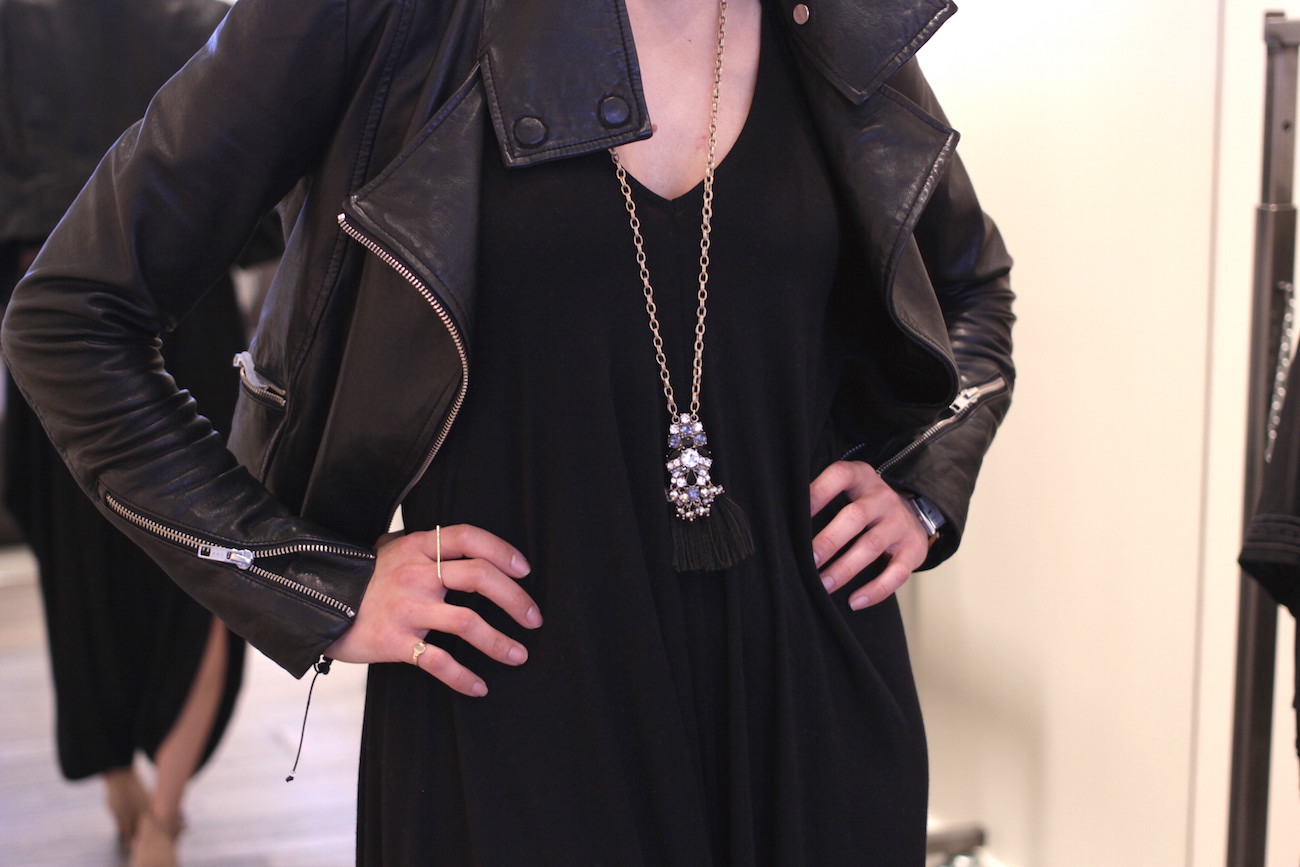 This soft jersey jumpsuit by Gilbert has a harem pant that just drapes perfectly down the body. It almost looks like a dress until you stand legs-apart and that when it's noticeable that it's a jumpsuit. I would totally wear this during the summertime in the hot months for a chic, relaxed weekend look. It is a versatile piece though and I dressed it up with nude heels and a beautiful statement necklace.
MENDOCINO: Gilbert jumpsuit, $75 (exclusive to Mendocino). Mendocino necklace, $45.
MY PIECES: Givenchy heels. Mackage jacket.
MUST HAVES:
Wonderland sunglasses! The shapes of these glasses are so flattering and look incredible on. I want them all!!! (Filled with my prescription of course!)
Wildfox bunny in pocket tee. Super cute! Now if only it was a cat!
Gilbert jumpsuit. Perfect summer time wear but still versatile for the spring!
Finders Keepers crop top. It's tres hot but still feels sophisticated.
CREDITS
Personal Shopping by: Jessica and Niki at Mendocino.
To book a complimentary personal shopping appointment, contact jessica@mendocino.ca.
Styling: Nathalie Shible Martin
Photography: Geoff Martin
*PR post. Read disclaimer here.