3 Affordable Graphic Tees for Fall
It's no surprise that t-shirts remain a staple in every fashion girls closet. They're comfortable, easy to wear, versatile and most of all, are unforgiving after a big meal.
Graphic/ concert tees have been my go-to item since I was 13 back when I rocking black hair, an under-cut, and horrible black chipped nails. Wait... that was 15. At 13 I was just straight up dressing like a boy. I guess my style hasn't changed too much since then but at least it's more refined now...
Well, graphic tees continue to have a big moment for fall and Gucci continues to kill it with their version but straight up, there's no way I'm spending $1500 on a t-shirt. It just makes NO sense.
Instead, I play the high/low game. High on accessories like shoes, bags and designer eyeglasses (because I never ever wear contacts), and low on a majority of my clothing, in particular t-shirts.
I had the chance to partner with Topshop this weekend and celebrated their newest store opening at The Bay in Oakville Place. I wore my new Rolling Stones tee, a pair of black flares, silver boots and sequinned utility jacket, all from Topshop. I was pretty confident I'd be the only one wearing this outfit so imagine my surprise when I walk in to see Liz Trinnear wearing a something similar, down to the exact same tee! Liz was DJ-ing for the day and it was great to catch up with her. Though I don't see her often, Liz is one of those women I admire. She always looks amazing when she's on air, but it's her off-duty style that I'm such a big fan of. I just loved that we were both wearing the same tee.
Finally, what's a Topshop event without a little bit of shopping? I picked up a couple of more shirts on the weekend, including this Pink Floyd tee with side lacing, and a Gucci-inspired tee that says Amour.
I just love the versatility of a good t-shirt. It's the ultimate all wear round piece of clothing. Since we're heading into fall, I also grabbed this amazing faux-shearling style jacket that has crazy-good Almost Famous vibes. It's not quite what Kate Hudson was wearing in the movie, but her character would have totally gone for it.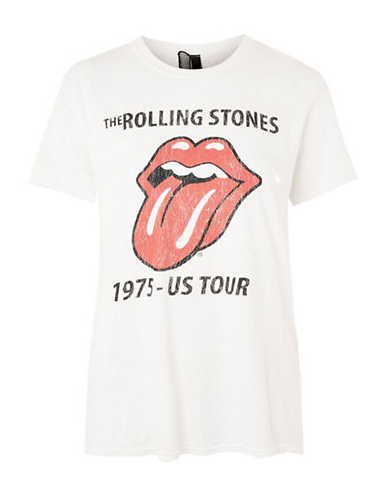 This creamy white tee is super soft and has distressed holes throughout for a vintage look and feel.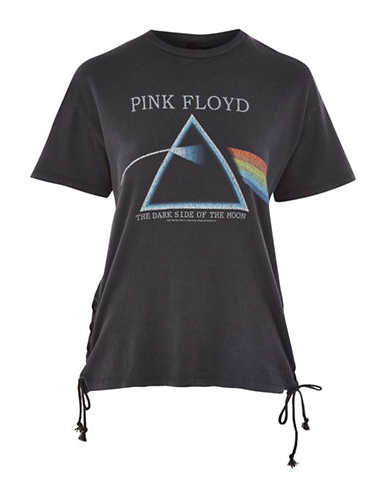 One of my favourite iconic images from the band, this tee has lace up details on the side that would look amazing with leather leggings.
Something about this shirt reminds me of the retro Gucci tee we saw from last season. Bonus, this one is only $25.
This post was in partnership with Topshop. All photos and opinions are my own.