Wardrobe Refresh + 5 Items to Buy for SS18 feat. NORDSTROM
Do you guys ever have that feeling that your wardrobe needs a little refresh? Ya, me too and I'm totally going through that right now.
My wardrobe has been feeling a little stale recently and after countless hours of perusing Pinterest, I felt like the universe was trying to tell me something – get yourself some new clothes woman!
I took an afternoon to purge anything that I don't use anything – handbags, shoes, clothes, jeans that no longer fit. Come on, who else does this hoping they'll fit again one day?
After dropping everything off at my local consignment shop, I drove over to Nordstrom for their 'Half Yearly Sale'.
There were certain key pieces I'd be on the lookout for – a black shoe, some straight cut denim, and maybe a new jacket?? I didn't want to stick too closely to a list because I really believe in leaving room for the element of surprise. Nothing gets my heart going like finding that perfect piece on a total whim.
I was keen on refreshing my wardrobe with some new cuts. My personal style remains the same and I still all about that whole edgy chic/retro aesthetic that I've always loved. I'm just a bit tired of the ankle-hugging skinny jeans and flat shoes at the moment so it was time to change it up.
I immediately found these amazing black suede mules from Vince. I have a similar pair in camel and every time I wear them I get loads of compliments. They're also really comfortable and don't need any breaking in.
I went for some good ol' classic denim pieces and found not one, but two pairs of straight cut jeans I'd been after. I also couldn't resist this oversized denim jacket from Madewell. I got mine in a size large and what I like about the oversized fit is how it can be worn a few different ways.
You'll notice in some of the photos I buttoned up the last three buttons from the bottom and wore it off the shoulder with a white tee underneath. For the other denim on denim look, I just went for the over-the-shoulder-tried-tested-and-true.
What I like about the oversized fit of the jacket is how it creates movement and visual interest to an otherwise simple outfit.
STYLE TIP: Denim on denim or anything monochrome is a simple way of looking put together. It's impactful, chic, and works for everyone!
I'm really happy with the starting phase of my wardrobe refresh and I'll be looking at adding a few more key pieces as the Nordstrom 'Half Yearly Sale' continues. Full disclosure, I went back the next day for some fuchsia pink trousers and a checkered blazer. Now we're talking!
5 ITEMS TO TRY FOR SPRING/SUMMER 2018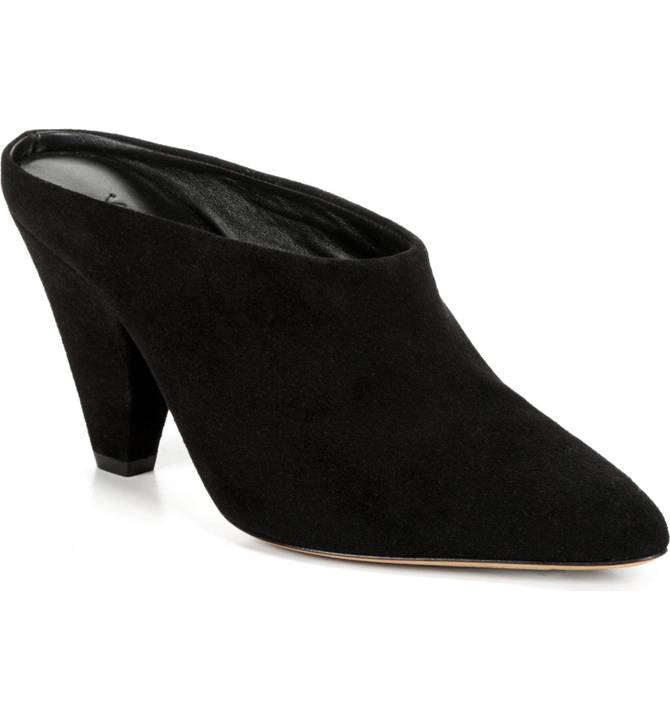 1. STRAIGHT CUT JEANS
Any wash will do but there's something about medium or light wash straight cut jeans that just work!
2. CHECKERED BLAZER
Still loving these. I updated my wardrobe with a linen one I can't wait to show you.
3. MULES
Comfy and chic. Enough said.
4. POLKA DOTS
Go for an entire outfit with dots. Break it up and add drama with small and large scale pattern. So, so, so chic!
5. BOLD COLOURS
Red and pink, mustard and brown, purple and blue. Do it, try it. Whatever floats your fancy. It's an easy way to add drama to your wardrobe this spring.
Disclaimer: This post is sponsored by ShopStyle and Nordstrom. All photos and opinions are my own.